Robert Boom, 76, participated in his fourth commencement in May, earning a certificate of achievement from Kapiʻolani Community College's paralegal program. It marked a 52-year span from his first bachelor's degree from the University of Hawaiʻi at Mānoa. In between, he also earned a certificate in teaching English as a second language from Hawaiʻi Pacific University and a master's degree in teaching English as a second language from UH Mānoa.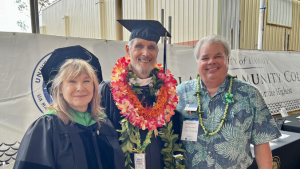 His five-decade career has meandered from the archetypal (owning a publishing company, teaching English as a second language) to the unconventional (producing a Japanese play, overseeing an attempt to utilize the Chinese tallow tree in Hawaiʻi) to his latest act as a septuagenarian: entering the legal profession.
"The university or the college is what opens your mind to a lot more things than just what's in the newspaper or on the evening news," said Boom, who earned a 4.0 GPA in the 32-credit certificate program. "It just broadens your horizons. …How much life are you still interested in? And the colleges and the universities can provide you [with] that."
While his peers may be a decade or more into retirement, he's thrilled to be armed with his newly acquired legal knowledge and is delighted at the possibility of utilizing his paralegal skills at a job.
"Law firms out there are really interested in our graduates because we're the only program that trains them for Hawaiʻi law," said Susan Jaworowski, director of the paralegal program. "We have something unique to offer."
Wisdom to share
Boom was drawn to the legal profession after working with a Chinese lawyer in Honolulu for the last five years. The lawyer needed help with writing and editing in English, strengths that were honed through Boom's years as a publisher, writer and editor.
An experienced student and teacher, Boom was active and engaged in the virtual classroom, never shy about taking a leadership role or voicing his perspective about assignments.
"He always has a lot of wisdom to share with students," said Assistant Professor Kimberly Koide Iwao. "He's been very helpful in providing tips, not only to students but to his instructors, so myself included. He's a very eager, mature student. His work product is excellent."
Real world experience
A highlight of Boom's Kapiʻolani CC journey has been his capstone internship with the Hawaiʻi Innocence Project. The group—which notably helped to exonerate Albert Ian Schweitzer after a wrongful conviction for the murder of Dana Ireland—utilizes UH Mānoa William S. Richardson School of Law and Kapiʻolani CC paralegal students to investigate past crimes for new evidence.
Discussing his work with the project made Boom light up. He recalled poring through old police reports and searching for a discrepancy that could change the life for one incarcerated person.
Kapiʻolani

CC's paralegal program
Kapiʻolani CC has the only Hawaiʻi-based, American Bar Association approved paralegal program in the state, serving about 80 paralegal students. Some are seeking a one-year certificate of achievement (requires a bachelor's degree) and others are working toward a two-year associate in science.
Now armed with his new certificate, Boom is hopeful an employer will give him an opportunity to utilize all his past careers, all his life experiences and all his years of knowledge.
"I never thought I would stop working," he said. "And if I can still contribute useful services to other people or something that I'm good at and other people think I'm good at, then I'd like to be able to do that."
—By Kim Baxter