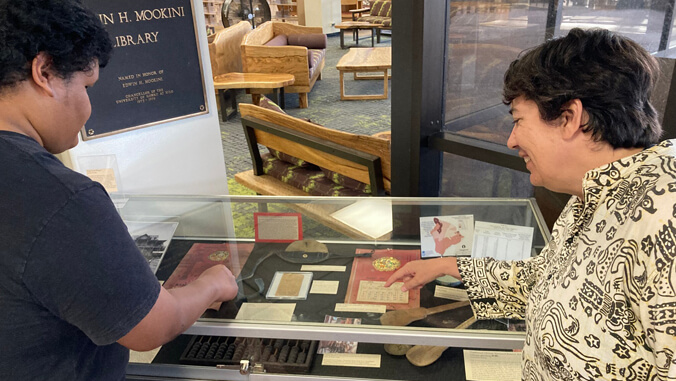 Anthropology students in a museology course—the study of museums—at the University of Hawaiʻi at Hilo created the museum quality exhibit Treasures from the Anthropology Collection: Stories from the Past at Mookini Library during finals week. The artifacts and objects used in the exhibit came from the UH Hilo Department of Anthropology's collections.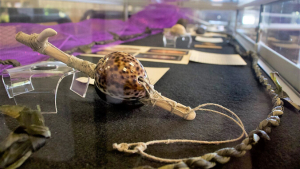 The exhibit will be on display at Mookini Library through the first week of June. Hours are Monday through Friday, 10 a.m. to 2 p.m. The students received museum training in storing artifacts, creating exhibits, managing administrative duties, solving custodial problems and conducting interpretations. They also learned about developing public programs, specifically about engaging with local communities to promote museum visits for the public to learn about history and objects such as cultural artifacts.
"The exhibition becomes the bridge to connect the museum and the community," said Tarisi Vunidilo, assistant professor of anthropology who taught the class. "This exhibition is a way to connect the staff and students of UH Hilo to the Department of Anthropology collection, which consists of archaeological, anthropological and historical materials almost entirely from Professor William Bonk, who taught at UH Hilo from the 1950s to the 1990s."
Vunidilo, an alumna of the UH Hilo anthropology program, says her students felt privileged to study the collection. Each student chose a "treasure" to feature, then researched it, wrote up the label, and prepared it for the exhibition. The class decided to translate the labels into ʻōlelo Hawaiʻi (Hawaiian language); one of the students, Torri Law, assisted with the translations.
"It was a fun project that all students participated in," said Vunidilo. "Hands-on learning is the best method of learning for students, more so in museology. We get to work with our collections in the department and students have fun putting life on these objects. Seeing students putting a voice on their chosen object made this exhibition project fun, interesting, and engaging."
Read about each student's exhibit at UH Hilo Stories.
—By Susan Enright