For students of the University of Hawaiʻi at Mānoa Way of Tea club, the journey to Japan was more than just an opportunity to explore and experience a new place—it was a long awaited reunion with their sister tea club from Doshisha University, located in Kyoto, Japan, the center of tea schools.
The UH Mānoa Way of Tea club visited during spring break, spending three days of their seven-day trip with their sister tea club. The Doshisha students welcomed the Hawaiʻi students with a tea ceremony at their tea house, Kanbaiken, with original sweets they designed to express friendship between the two clubs.
"This was the first tea ceremony that I participated as a guest in. Having our sister school's tea club be the hosts of my first tea ceremony was truly amazing," said Kara Shaw, the UH Mānoa club's treasurer. "It was so surreal yet serene in the tea house—it was truly a beautiful moment that every one of my senses remembers to this day."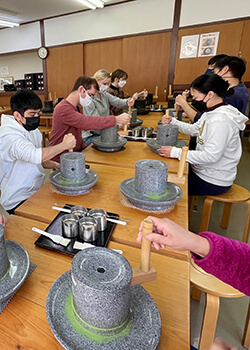 The following day, the students of the two universities toured Daitoku-ji, a Buddhist temple, and Konnichian, the historic headquarters of Urasenke Tea Tradition, where they received an unexpected appearance of the15th generation Grand Tea Master Genshitsu Sen. Sen, who donated UH Mānoa's tea house, Jaku'an, is a highly respected individual in the world of Chado (way of tea) in Japan and internationally.
"We knew we would have the honor of meeting with Dr. Sen later that evening, but seeing him at this timing was such a surprise," said Akiko Ono, a lecturer for the Chado practicum course and faculty member who oversees the Way of Tea club. "He embraced us and showered us with care. He has so much compassion. The students were very overwhelmed."
The UH Mānoa students later had the opportunity to host a tea ceremony for the Doshisha students in an authentic tea house in Kyoto that was donated by the Panasonic CEO Konosuke Matsushita. The students dressed in kimono (national Japanese costume), serving tea in the club's first off-island tea ceremony. Sen was the club's guest of honor, in addition to other important guests.
"This trip helped the club see what we were truly a part of," said Madeline Gilbert, an officer in publicity in the Way of Tea club. "Here in Hawaiʻi, we tend to feel like we're on our own since we're so separated from the main body of Chado tradition. It helped us feel more connected to Kyoto and our sister club."
Appreciation for Chado during the trip was also expressed in activities such as Japanese sweets making (sweets are traditionally served during tea ceremonies) and a stop in Uji, Kyoto to visit tea manufacturers, grind matcha tea powder with a stone and make Asahi-yaki (stoneware tea bowls).
"I have been a part of the club for over a year now, and thanks to that, I was able to visit Japan with a new perspective and appreciation for its culture and history," said Yuma Tochika, the UH Mānoa club's vice president. "The world of tea in Japan is much larger than I expected, and I was able to meet many people who were involved with tea and who have supported our club over the years."
Read more about the tea clubs at the Center of Japanese Studies website.
About the club
The UH Mānoa Way of Tea club currently consists of four PhD students and 20 undergraduate students. They participate in public events to introduce the community to Chado and exhibit the older interactive art form to others.
Due to the serious and disciplined nature of Chado, the current club members highly recommend that interested students take Ono's ASAN 324 Chado&8212;The Way of Tea Practicum course first to learn the basics of Chado before committing to the club.
For more information, visit the Way of Tea club website.