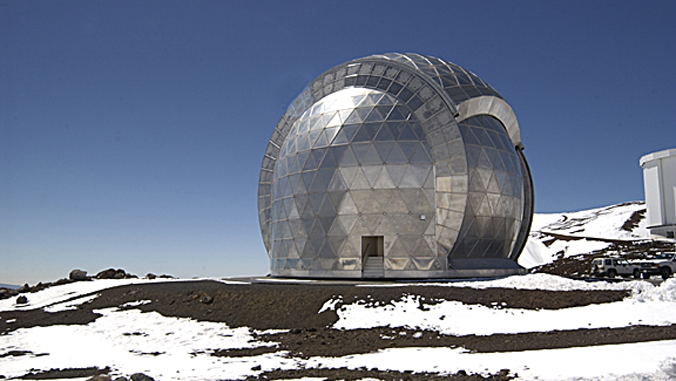 The 34-foot diameter telescope mirror from the Caltech Submillimeter Observatory (CSO) on Maunakea will be removed in sections this summer, according to a June 2 CSO news release. CSO said the original plan to move the mirror in one piece proved to be unworkable. The updated plan will be less disruptive to the Hawaiʻi Island community because it will not require extensive road closures.
The telescope parts will be transported in standard shipping containers and sent to Chile where it will be reassembled and used. Once the telescope removal is complete, the CSO buildings will be removed and the site restored. The total cost, which will be paid for by Caltech, is expected to be more than $4 million. It is one of two Maunakea observatories expected to be fully decommissioned by the end of 2023. The physical removal of the University of Hawaiʻi at Hilo Hōkū Keʻa observatory is expected to begin in the fall.
CSO and UH Hilo are following the 2010 Decommissioning Sub Plan (PDF) of the Maunakea Comprehensive Management Plan (PDF) for the observatory removal and site restoration. The process is being overseen in part by the UH Hilo Center for Maunakea Stewardship.