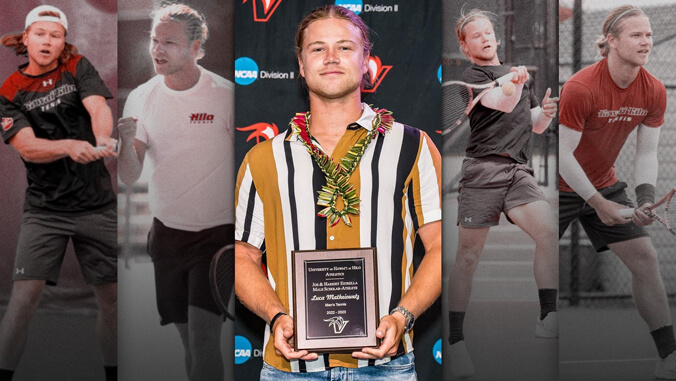 University of Hawaiʻi at Hilo tennis player Luca Matheiowetz was named the 2022–23 Joe and Harriet Estrella Male Scholar-Athlete at the 2023 All-Sports Banquet after achieving the highest cumulative grade point average with at least five semesters completed as a Vulcan.
Learning, growing and adapting is the on-going process of life—along with all the trials and tribulations that come along with it.
For the Olching, Germany native, it's been all that and then some: moving to a different country more than 7,000 miles across the world, learning the collegiate game of tennis and perhaps most importantly, trying to have fun on the court.
UH Hilo's student-athletes have to get on a plane to travel for every away contest. While a common obstacle for all Vulcans student-athletes, the jam-packed schedules did not provide any favors for the tennis team with eight matches in nine days through both southern and northern California earlier in 2023 in March 2023.
Not only is it tough to find time to take care of class work, but it's also physically tough on the body with rapid wear and tear—especially on the hard courts as opposed to the clay surfaces Matheiowetz had grown up playing on in Europe. A changeover in roster for 2023 meant longer match play instead of cruising to quick victories by overpowering opponents such as the ones Matheiowetz had become accustomed to through his first two seasons. After previously playing on Courts 4-6, the junior also had to step into the No. 1 singles spot calling for a smaller margin of error in often going up against the top players from each team.
"It was a good experience but also frustrating," Matheiowetz said. "But this semester we learned now we have to really fight for every match. That made us grow more from what we learned from just winning straight away."
The Vulcans went 5-12 this past season with a seventh-place finish at the PacWest Conference Championships.
While the end results were frustrating in terms of wins and losses, it was an opportunity for Matheiowetz to try to just enjoy the moment.
"My main goal is to have fun because then I'm getting loose and can swing away," Matheiowetz said. "I'm just trying to have a good time on the court and enjoy the team. I cannot play well without fun anyway."
Matheiowetz arrived on Hawaiʻi Island looking to pursue a degree in psychology but has now landed on working toward a double bachelor's of business administration in accounting and finance.
While he's currently not too sure where his career path will end up taking him, Matheiowetz plans to return to Germany after one more go at tennis with his senior season next spring.