Eight inmates at Waiawa Correctional Facility (WCF) celebrated culinary certification and showcased their new skills by preparing and serving a banquet for invited family and friends in June. After completing four college-level classes taught by Kapiʻolani Community College Chef Instructor Lee Shinsato over six months, they each earned a culinary arts certificate.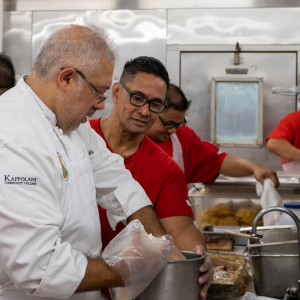 "This program helped me a lot in professionalism and being able to have a future," said 52-year-old Gabriel Apilando, who is at the tail end of a 20-year sentence. "When we get out of prison, it's giving me a lot to look forward to—a career or trade when I get out there 'cuz I'm not getting any younger."
This is the first time that WCF has had a culinary program in at least 20 years. Kapiʻolani CC has run a culinary program at the Women's Community Correctional Center (WCCC) for more than 10 years, and had more than 130 inmates take culinary classes. Last year, Kapiʻolani CC proposed a memorandum of agreement to extend the program to WCF.
Soft skills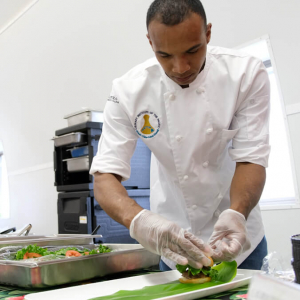 "My hope is that students buy into my thoughts of how a professional kitchen should be run—respect, professionalism and to always strive for perfection. These are three soft skills that are transferable to any part of life (personal or professional)," said Shinsato, who also teaches at WCCC. "I'd like to think that they turn out better human beings that happen to have great cooking skills. In a real restaurant, you strive for repeat customers. In my classes, I don't want repeat customers—recidivism."
WCF administrators jumped at the opportunity to have the program, knowing that many inmates are interested in culinary arts and some even hope to own their own food businesses some day.
"The students are participating in a college-level program that they can use once they transition back to society. With these skills, they can elevate their career seeking potential or further their academic scope into a full culinary degree," said Kerry Iwashita, WCF's educational specialist. "It is evident from their commitment to the six-month program, that vocational cohorts like these have a positive impact on them. We already have a full waitlist for the next one and I hope that we can get more of these types of programs going forward."
"Anything is possible"
The impressive menu the WCF inmates served up included: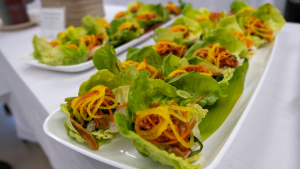 Lechon kawali taco salad
Veggie kimbap lettuce wrap
Huli chicken and lilikoi/raspberry chimichurri sauce
Sous vide corned beef and kale "lu pulu"
Banh mi bao
811 focaccia sliders
Lemon bars
Ube cheesecake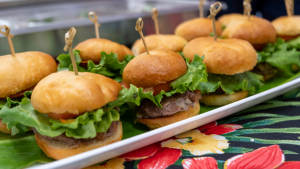 WCF Inmate and student speaker Antonio Belen said he plans to use his new skills to get a job and care for his family when he is released in September. His two-year-old daughter Athalia attended the graduation and enjoyed the food.
"The culinary program taught me that anything is possible," Belen said. "As long as I put my mind to it and I have motivation and I'm willing to persevere and overcome and have the tenacity to move forward in my life, I can achieve all."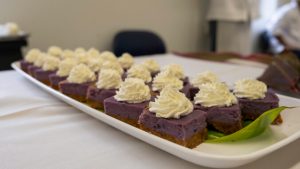 WCF Warden Sean Ornellas, who also served at WCCC, said he hopes to expand the WCF culinary program to offer more classes at night, when the kitchen is free, and has plans to develop a farm-to-table educational program.
Apilando encourages the community to support the culinary classes. He said, "Make sure that we can continue to provide this assistance and help to inmates who really want to change their lives."
—By Kelli Abe Trifonovitch