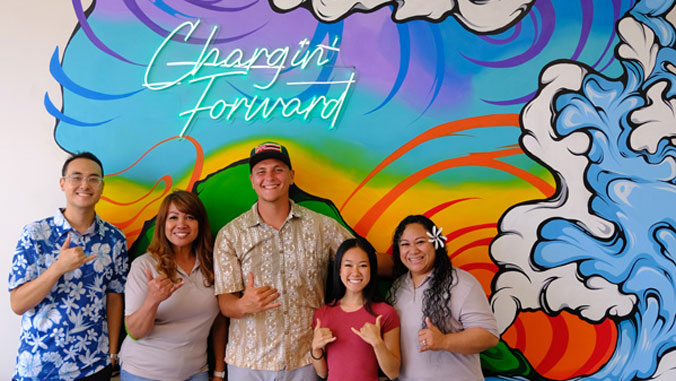 The University of Hawaiʻi Federal Credit Union (UHFCU) held a grand opening celebration for their new branch in Kapolei Commons on June 21. The new location is a full–service branch that offers access to UHFCU's full suite of financial products and services, including checking, savings and loans.
"We're thrilled about opening our fourth branch! Our other branches generally surround the UH Mānoa Mānoa campus, so we're excited to be able to serve the Kapolei area as well as UH West Oʻahu students, faculty, staff and their families," said UHFCU President and CEO Travis Bow. "In addition to the branch, we recently launched cutting-edge online and mobile banking services and we're proud to support a budding artist and UH Mānoa student-athlete, Rachel Radona, who painted our one-of-a-kind mural. There's a lot of value and expertise packed in that branch."
The new branch features a modern, open design complete with the latest in technology, including an interactive mural for visitors to explore as they enter, creating a collaborative, comfortable environment instead of a more traditional, formal setting. UHFCU is also offering special–rate certificates, as well as exclusive loan discounts, contests and giveaways—including a Hilton Hawaiian staycation prize.
Since 2019, UHFCU has sponsored the annual Take Me To Mānoa contest for new students, providing free tuition for a year to the winner.
"We are committed to serving the UH System and local community, and we have developed a reputation as a trusted financial partner over the past 68 years," Bow added.