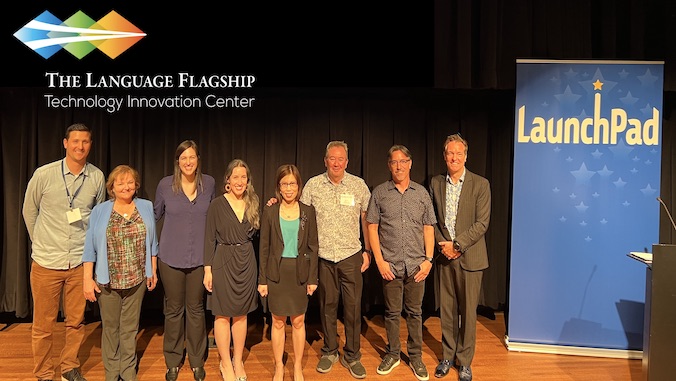 Returning to an in-person format this year was the annual LaunchPad, an international language technology competition led by the Language Flagship Technology Innovation Center (UH Tech Center) in the College of Arts, Languages & Letters at the University of Hawaiʻi at Mānoa. The Shark Tank-style event was held June 8, at the University of Minnesota in collaboration with the Computer Assisted Language Instruction Consortium (CALICO).
Five startup companies pitched their innovative technology projects for language learning to a group of expert judges and an audience of language educators and researchers. Lingostar.ai, represented by Anthony Spadafino, was chosen as the winner of both the judges' LaunchPad Award and People's Choice Award determined by audience vote. Internationally recognized language education scholar Hayo Reinders was the master of ceremonies.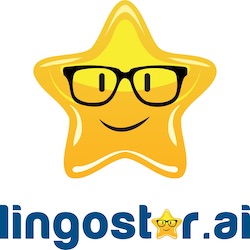 Described as "the language learning conversation partner for the modern age," Lingostar.ai is an AI (artificial intelligence) who you can speak to in real, unscripted, back-and-forth conversations in voice or text about any topic to reach fluency. It currently speaks English, Spanish and French with 20+ languages coming soon. It gives pronunciation feedback, makes grammar corrections and suggests study games.
"Our program helps align the needs in language learning with the technologies that these entrepreneurs are developing," said Julio Rodriguez, director of the UH Tech Center. "The LaunchPad gives them a valuable opportunity to refine their products and make adjustments. This year's finalists received feedback from a very well informed audience, namely colleagues in the field with expertise in various areas of technology and language learning."
The other four 2023 LaunchPad finalists were DLS VR, Eduling Speak, Mage Duel and Pangea Chat. Finalists are added to the UH Tech Center's network of language programs at 21 leading institutions of higher education to participate in events and projects.
"The innovations showcased at this year's event were remarkable in that they illustrate how technology entrepreneurs are integrating state-of-the-art artificial intelligence capabilities with pedagogically informed affordances for language learning," said Richard Medina, faculty specialist in human-computer interaction and project lead at the UH Tech Center. "Each presenter prioritized engagement through gaming, virtual reality, or through social connections both in formal and informal learning settings. We think there is much potential to explore in each."
The UH Tech Center started the LaunchPad competition in 2017, inspired by popular Japanese TV show Dragon's Den, and its U.S. successor, Shark Tank. The annual event is designed to facilitate early dialogs between startup companies and world language professionals and is held at various locations every year, typically with collaborating conferences including CALICO and ACTFL (American Council on the Teaching of Foreign Languages).