Caretaker, rescuer, ambassador. These are words 81-year-old James "Kimo" Pihana uses to describe his years as the first-ever Maunakea Ranger. Pihana said he began serving in a ranger pilot program, focused on stewardship, in 2000. He and two others were formally hired as Maunakea Rangers in 2002.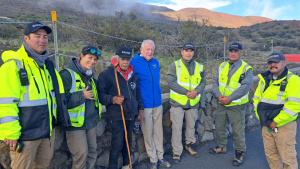 "I was hired first, and I saw my role more as a caretaker of the mountain than as a ranger," Pihana wrote in his autobiography Celebrating the Hawaiian Culture: The Autobiography of Kimo Keliʻi Kaʻahaʻaina Pihana (Imua Press).
Today, there are 11 Maunakea Rangers whose job is to protect the public and the mauna (mountain). Pihana, who retired in 2008, was presented with a new ranger hat in March by a group of past and present rangers to say mahalo for all of his contributions.
"You are pretty much the pioneer for our program, so we are very grateful for what you have done, being the lone ranger way back when," said Maunakea Ranger Oscar Pouoa. "We are blessed, and if it wasn't for you, there would be no rangers, and we wouldn't be here talking with you. We appreciate you very much."
There were tears at the informal gathering in the parking lot of the Onizuka Center for International Astronomy Visitor Information Station at 9,200 ft. elevation.
"I feel so good about it because it is so important to have this program, the rangers, caretakers of the mauna," said Pihana as he wiped his eyes. "We need to look to the future of science and astronomy, into the galaxy and into the moon and Mars. …It's an honor for me to be up here."
'People have died there.'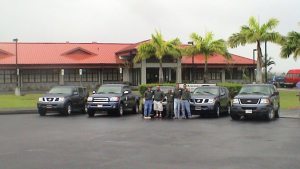 In his autobiography, Pihana recalls that his primary responsibility as a ranger was the safety of visitors to Maunakea.
"Temperatures go below freezing, roads are steep and so slippery, the oxygen is forty percent of what it is down the ocean, …," Pihana wrote. 'People have died up there. I rescued people many times, and scooted the ambulance down those very steep mountain roads to get them first class medical attention. I was a modern Hawaiian taking care of business."
The job duties were many and varied.
"I mālama the ʻāina. That means I take care of the land and the people. I picked up cigarette butts and trash. Humble things were not beneath me, nor should they be beneath anyone," he wrote.
Oʻahu

roots

Pihana graduated from Leilehua High School in 1960 and earned the rank of captain in the Junior Reserve Officers' Training Corp. He served in the Merchant Marine, then was drafted during the Vietnam War and saw combat in the Mekong delta, earning a purple heart. After being medically discharged, he went to work at Hawaiian Independent Refinery.

He later moved to Hawaiʻi Island and, at the urging of kumu (teacher) Pua Kanahele, began taking college courses to learn more about his Hawaiian culture. Pihana began to lean into cultural activism and was involved in the restoration of Puʻukuhola Heiau, a symbol of unification for Native Hawaiians. He also became part of a group holding cultural ceremonies on Maunakea.
Hawaiian ambassador
As Pihana recounts, when the university started a pilot stewardship program on Maunakea in the late 1990s, the head of the Mauna Kea Observatories Support Services, Ron Koehler, asked him to apply for the job. This evolved into the Ranger Program.
Pihana was glad to be able to share his culture with the thousands who visit Maunakea each year.
He wrote, "In addition to helping people with safety, I was always talking with people who asked me about the Hawaiian culture and Hawaiian attitudes about the mountain. It was not my job, but I felt like a Hawaiian ambassador to the nations of the world up there."
A benediction concludes Pihana's autobiography and says in part: "Can we dream a new dream of hope for our people? Yes, definitely. My approach to the new is by way of the old—not to recreate it, but to use it as a guide, a meditation, to honor it and look forward in the 21st century.
My name, Pihana, means 'gatherer of people' in Hawaiian—perhaps that is my destiny, my contribution during this lifetime: get some people together, share what we have learned."
By Kelli Abe Trifonovitch