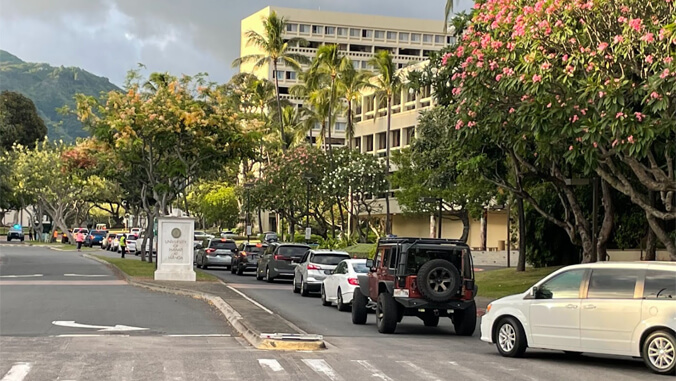 The University of Hawaiʻi at Mānoa is utilizing the latest technology to improve parking management on campus, especially for large events such as commencement and UH football games. The university can now leverage real-time data to monitor parking availability, accept contactless mobile wallet payments, validate pre-paid parking with mobile point-of-sale devices and accept payment virtually anywhere on campus vs. fixed kiosk locations.
The new system, ParkHub, was used to manage parking during the UH West Oʻahu and UH Mānoa commencement ceremonies and nine high school graduations at the Stan Sheriff Center in spring 2023.
"The additional flexibility and real-time data that these devices provide is invaluable," said Nick Sakamoto, special events manager of Commuter Services at UH Mānoa. "We now have the ability to double and triple up cashiers during peak periods to expedite entry to our facilities and relieve traffic on surface streets."
The system will be relied upon for 2023 UH football home games, after the Clarence T.C. Ching Athletics Complex expansion project from 9,000 to 15,000 seats is completed. The Rainbow Warriors started playing on campus after the unexpected closure of Aloha Stadium in December 2020. Other ParkHub clients include the University of Notre Dame; Louisiana State University; AT&T Stadium in Texas, home of the Dallas Cowboys; and MetLife Stadium, home of the New York Giants and New York Jets.
The technology upgrade is the latest step taken by UH Mānoa Commuter Services to improve customer service and make on-campus parking more efficient and convenient for students, employees and visitors. The new system is expected to reduce traffic on city streets during events, generate insight on when event attendees typically arrive and inform staffing requirements for parking operations. Commuter Services is a self-funded unit and receives no state funding or tuition and fees revenue.
More parking initiatives
New flexible and affordable parking options were implemented by Commuter Services in 2023 to better meet the changing needs of the UH Mānoa campus and improve parking access, options and affordability. Those options include:
$4 daily parking pass for students and employees that can be purchased in advance online
Afternoon parking permits for students and employees that are valid from noon to closing hours
Upper campus $1 parking permits for visitors after 4 p.m.
Streamlined administrative processes related to parking operations
Introduction of a non-expiring payroll deduction permit for eligible employees
More convenient pick up process for student semester parking permits
A text message notification service available to provide parking updates in a timely manner
Commuter Services also deployed a License Plate Recognition vehicle to collect parking data that will be used to maximize and improve access to parking on campus. The advanced data collection tool measures parking turnover and stall utilization by scanning license plates and determining how long and in which parking zones vehicles are observed.