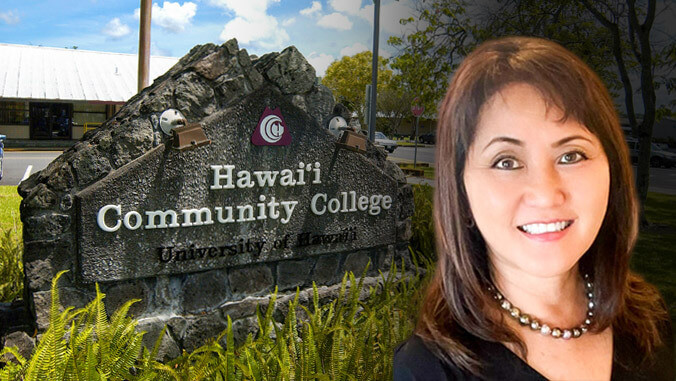 Susan Kazama has been appointed interim chancellor of Hawaiʻi Community College effective July 1. Kazama replaces Rachel Solemsaas, who stepped down as chancellor in June after serving for seven years. The search for a permanent chancellor will begin in the fall 2023 semester with the convening of a selection committee. The search process is expected to run through 2024, with a target of having a permanent chancellor in place by July 2024.
The interim appointment of Kazama was made by University of Hawaiʻi Acting Vice President for Community Colleges Della Teraoka after a solicitation for qualified candidates and candidate review. The appointment was then approved by UH President David Lassner and publicly posted.
"Susan has demonstrated her leadership in various roles in the community colleges, and she is committed to working with the administrative team, faculty, staff and community to ensure the college is meeting the needs of students while preparing them for the workforce on Hawaiʻi island," Teraoka said.
Kazama has worked in the UH system since 1987, starting as a librarian at UH Maui College and Honolulu CC. She spent 12 years at UH Mānoa's Hamilton Library before accepting the library director position at Kapiʻolani CC in 2001. She served as interim vice chancellor for academic affairs at Kapiʻolani CC and Honolulu CC until 2021, when she became a program coordinator for continuing education at Kapiʻolani CC. She also served on the Accrediting Commission for Community and Junior Colleges for seven years, including three years as the chair, past chair and vice chair during a turbulent time for the commission.
She is a product of public education in Hawaiʻi. Born and raised in Hilo, Kazama is a proud graduate of Waiākea High School and earned a masters in library science and a bachelor's degree in psychology from UH Mānoa.