The slopes of Heʻeia in Windward Oʻahu are becoming a biodiverse and culturally valuable agroforest once again, something that the area hasn't seen for more than 200 years, thanks to the work of an interdisciplinary research team from the University of Hawaiʻi at Mānoa, Kākoʻo ʻŌiwi, the Heʻeia National Estuarine Research Reserve and thousands of volunteers.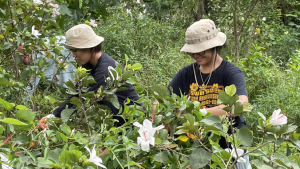 Just five years ago, 100% of the trees at Puʻulani (heavenly ridge)—an area that sits above the loʻi kalo (taro patches) at Kākoʻo ʻŌiwi in Heʻeia—were non-native species. Since then, a UH and Kākoʻo ʻŌiwi partnership has transformed the area into an agroforest (integration of trees and shrubs into crop systems to create environmental, economic and social benefits) that provides materials for lei and food, and opportunities for the community to access and connect with it.
While much of the foundational work was done over the past five years, the area still needs to be maintained regularly. The group has been hosting monthly community work days, including on June 17 and July 15. More than 20 participants volunteered their time each day. Another community work day is planned for August 19 from 9 a.m. to noon. Visit Kākoʻo ʻŌiwi's website for more information.
"It's pilina. It's connection, connection to the people that come out here but also connection to this ʻāina and to these plants," said Maile Wong, Kākoʻo ʻŌiwi work day lead and spring 2023 graduate in botany and incoming PhD student in UH Mānoa's School of Life Sciences. "I know this forest will be here a lot longer than I will and having a chance to build pilina with the plants feels like a way that I can connect continually to my kūpuna."
Agroforest transformation
Prior to 1778, Puʻulani was covered in Indigenous agroforests and native forests. Later, Puʻulani was used for cattle grazing. After grazing ended, non-native trees and other plants moved in. When the team began the restoration in 2018, Puʻulani was covered with mostly Java plum, fiddlewood and octopus trees, which are typical of non-native forests across low elevation lands in Hawaiʻi.
They began by clearing the non-native forest. In a huge community effort in 2019 with 200+ volunteers, the group planted more than 2,000 culturally valuable and useful plants of 25 species. They selected plants that feed people spiritually and intellectually: lei plants, plants used in lāʻau lapaʻau (traditional Hawaiian medicine) and ceremonial plants. All but three of the original plants are native; the others are non-native and non-invasive plants with important uses to the community.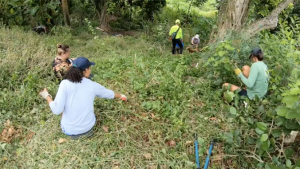 "It's just an incredibly special place that has so much amazing energy here from all of the work that's gone into it, not just over the last four years, but since Kākoʻo started and since long before the community has fought for this place," said Leah Bremer, UH Economic Research Organization (UHERO) and Water Resources Research Center associate specialist.
The restoration areas include experimental plots, which have allowed the team to track how restoration influences plant diversity and abundance, soil health and carbon storage. They are also evaluating how restoration influences cultural connection to place and yields of culturally and economically important products, such as lei material and Hawaiian varieties of banana.
Kākoʻo ʻŌiwi's mission is to perpetuate the spiritual and cultural practices of Native Hawaiians, and agroforestry is an important part of its strategic plan. Puʻulani is the highest point that is easily accessible to the staff and community at Kākoʻo ʻŌiwi, and so it was selected as an ideal place to carry out the first agroforestry restoration effort.
The research team includes UHERO, Water Resources Research Center, School of Life Sciences, Department of Natural Resources and Environmental Management, Pacific Biosciences Research Center and UH Sea Grant College Program from UH, as well as the Heʻeia National Estuarine Research Reserve.
The UH research team would like to mahalo its partners: Kākoʻo ʻŌiwi, the Heʻeia National Estuarine Research Reserve and the many volunteers who make Puʻulani thrive. Funders include Natural Resources Conservation Service, Social Science Research Institute, UH Sea Grant College Program, National Science Foundation, Heʻeia National Estuarine Research Reserve and Kaʻulunani program (Division of Forestry and Wildlife).
"The reason why volunteers are important in this work is, of course, there is a restoration component—we're growing plants, we're growing food plants, native plants, plants that have medicinal benefits, plants that have cultural benefits. But I think the more important benefit is the benefit to people and that's why I come back is because it's an opportunity to build connection to place, it's an opportunity to grow friendships. It's good for our health, it's good for our minds and good for our spirits," said Maya Walton, UH Sea Grant College Program assistant director for research and fellowships.
Katy Hintzen, UH Sea Grant College Program coastal resilience specialist, who has attended these work days frequently, added, "It was nice to get to connect with a place on a more regular basis—coming out most weeks, seeing how it's changed over time, how things are growing, new people have now come in and meeting new friends. I like that it gives me a chance to have a deeper relationship with a specific spot."
For more information or to visit and/or volunteer at Puʻulani, contact Leah Bremer (lbremer@hawaii.edu) or Maile Wong (mailekw@hawaii.edu).
—By Marc Arakaki