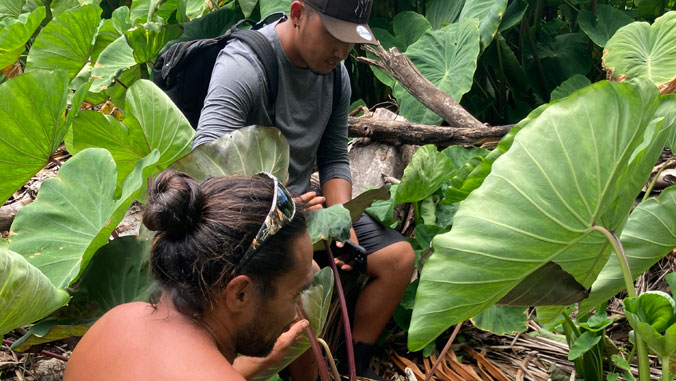 Food systems are at a critical crossroads, confronting multiple biophysical, social-economic and ethical challenges, including climate change emissions and impacts, environmental degradation, loss of biological and cultural diversity, malnutrition and negative public health outcomes, social inequality, exploitation of human labor and non-human animals, and longstanding food insecurity at the national and international levels. The United Nations'(UN) 2030 agenda for sustainable development provides a framework of 17 sustainable development goals (SDGs) aimed at addressing these social and ecological externalities and building a more healthy, resilient, equitable and sustainable world.
The food and agriculture sector has a direct or indirect influence on 13 of the 17 UN SDGs, making transformation of the food system both urgent and essential. University of Hawaiʻi–West Oʻahu Associate Professor Albie Miles and UH Mānoa Professor Travis Idol are serving as associate editors for a new special research topic in Frontiers in Sustainable Food Systems, and are putting out a call for manuscripts about food system transformation and the realization of the UN Sustainable Development Goals.
"Which foods we produce, how we produce them and who has access underpins many of the critical ecological, social and public health issues we face as a society," Miles said. "This special research topic of Frontiers in Sustainable Food Systems is designed to gather leading-edge scholarship on how agri-food systems may best be planned, managed, monitored and adapted to realize the UN Sustainable Development Goals."
The topic will focus on the centrality of food system transformation in achieving the UN SDGs, as well as the key strategies, models, opportunities and obstacles associated with this process.
Miles further stated that the special research topic has direct relevance to the Aloha+ Challenge, the statewide commitment to achieve Hawaiʻi's sustainability goals, and the locally driven framework to realize the United Nations Sustainable Development Goals.
The deadline to submit abstracts is November 1 and the deadline to submit manuscripts is March 31, 2024. Submission guidelines can be found online. Miles is also serving as specialty chief editor of the section Social Movements, Institutions & Governance in the journal.