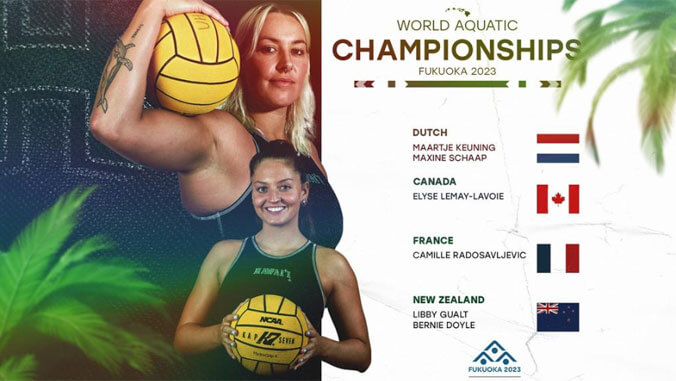 Six former and current University of Hawaiʻi at Mānoa women's water polo players will take part in the International Swimming Federation (FINA) Water Polo World Championship, which began on July 15 in Fukuoka, Japan.
The Rainbow Wahine will be represented on four teams in this year's championships. Maartje Keuning (2017–18) and Maxine Schaap (2019) will represent the Netherlands. Another pair of former 'Bows, Libby Gault (2018–23) and Bernie Doyle (2019–20) will compete for New Zealand while Elyse Lemay-Lavoie (2018–22) and current Rainbow Wahine Camille Radosavljevic will represent Canada and France. Radosavljevic participated in the FINA World Women's Junior Championships in 2021.
Several of these Rainbow Wahine recently found success at the Women's World Cup and look to continue their strong performances at the FINA Water World Championships. Keuning and Schaap have three medals each, including one gold in the World League European Preliminaries. Lemay-Lavoie has two medals to her name, earning a silver medal in the World League Super Final in 2017.
Pool play runs through July 20 with the championship scheduled for July 27.
For more visit HawaiiAthletics.com.