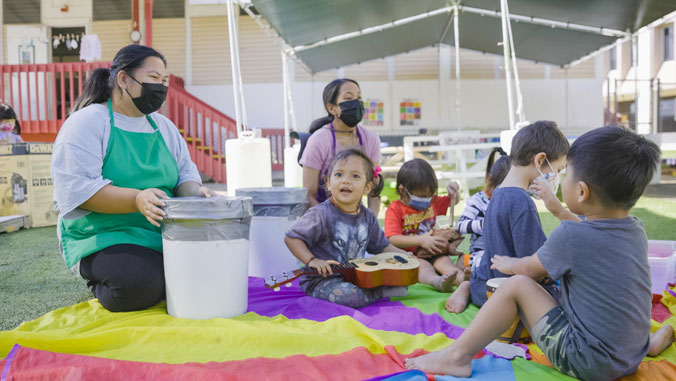 A new certificate for infant and toddler caregivers is now available through Honolulu Community College's Early Childhood Education (ECED) program. Building on the momentum from the Ready Keiki initiative to expand access to preschool, and the tuition stipend available to current and potential early childhood educators and caregivers, the ECED program launched the certificate to provide more opportunities for individuals in the early childhood education and care profession.
"This certificate creates a promising efficient pathway specialized for those who want to work with infants and toddlers. It is a thoughtfully constructed pathway to build Hawaiʻi's infant and toddler caregiver workforce," said Caroline Soga, assistant professor and program coordinator. "This certificate is also stackable and enables students to continue on to finish an associate degree and then transfer to a four-year university, if they choose."
The infant and toddler caregiver certificate requires a 21-credit sequence designed to meet the Hawaiʻi Department of Human Services' education and experience qualifications of an infant and toddler caregiver. The new certificate is in addition to offerings such as the ECED associate in science degree, with either preschool or infant and toddler specializations, and certificates of competence.
More information is available on the ECED program website.