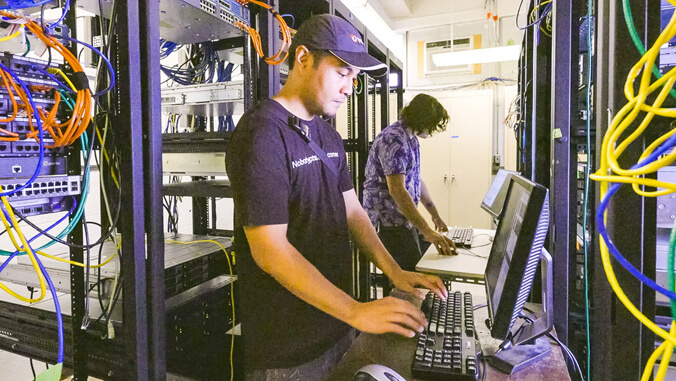 For the second consecutive year, the University of Hawaiʻi has set a record in extramural funding at $515.9 million for fiscal year 2023 (FY2023), $10.9 million more over the previous record of $505 million set in FY2022.
UH Mānoa, the flagship campus of UH's 10 campus system, led the extramural award amounts this year with $342.7 million. The UH System brought in $117.7 million, UH Community Colleges totaled $33.7 million, UH Hilo received $17.8 million and UH West Oʻahu totaled $4 million.
"We are extremely proud of our back-to-back record hauls in extramural funding, despite having to deal with a myriad of challenges due to the recent pandemic and its lingering after-effects on the world economy and our funders," said UH Vice President for Research and Innovation Vassilis L. Syrmos. "The accolades must be given to our faculty, staff and graduate students for their hard work and dedication to the UH research enterprise and to the state of Hawaiʻi."
Extramural funding is external investments from governmental agencies such as the federal government, industry and non-profit organizations that support research and training activities conducted by university faculty and staff. Extramural projects support research and innovation that help to increase knowledge and provide solutions to improve quality of life.
"Every dollar invested by one of our extramural sponsors is a vote of confidence that UH faculty, staff and students are creating a better future for Hawaiʻi and the world," said UH President David Lassner. "This includes everything from climate change, resilience, water quality and energy solutions to addressing health disparities, educational inequities, feeding our population, and training Hawaiʻi's people for the jobs of today and tomorrow."
Several examples of UH programs that attracted the attention of funders:
The Office of the Vice President for Community Colleges was awarded $16.3 million from the U.S. Department of Commerce for the "Resilient

Hawaiʻi

: Good Jobs Challenge" initiative that provides employer-driven training in living-wage jobs to individuals whose employment was disrupted by the COVID-19 pandemic. Read more on UH News.
The Institute for Astronomy received $5.5 million from NASA to continue a wide area survey of Near Earth Objects at its Pan-STARRS observatory on Haleakalā, Maui. Read more on UH News.
The John A. Burns School of Medicine was awarded $4.5 million, as part of a five-year $23 million grant from the National Institutes for Health (NIH) for Ola HAWAII, a multidisciplinary research center that addresses health disparities in underserved, multiethnic populations in

Hawaiʻi

. Read more on UH News.

UH's Established Program to Stimulate Competitive Research received $4 million, as part of a five-year $20 million grant by the National Science Foundation (NSF), to integrate climate and data science research under its "Change HI" initiative. Read more on UH News.
The

Hawaiʻi

Natural Energy Institute received $3.6 million from the Office of Naval Research (ONR) to continue its research and maintenance support of the U.S. Navy's Wave Energy Test Site in

Kāneʻohe

Bay. Read more on UH News.

ONR awarded UH a $2.4 million grant to partner with the University of Alaska and the University of Rhode Island to develop and advance energy, marine and other blue economy technologies and opportunities through the Office of Innovation and Commercialization. Read more on UH News.
NIH awarded $2.4 million to the UH Cancer Center to continue its important Multiethnic Cohort Study. Read more on UH News.

Windward Community College was awarded $2 million of a $3.5 million grant by NSF's Tribal Colleges and Universities Program to establish its

Kiaʻi

Loko Center for Limu Research. The center focuses on applying traditional Native Hawaiian knowledge alongside Western scientific methods to study limu (algae) and traditional Hawaiian fishponds. Read more on UH News.
UH Mānoa's School of Ocean and Earth Science and Technology (SOEST) was awarded $3 million by ONR to map flood risks related to sea-level rise in

Hawaiʻi

.
The Defense Advanced Research Projects Agency awarded SOEST and the UH Applied Research Laboratory another $1.5 million increment of a five-year, $25 million project to develop an engineered coral reef system to protect coastlines from flooding, erosion and storm damage. Read more on UH News.
The UH Center for Indigenous Innovation and Health Equity received $1.5 million from the U.S. Department of Health and Human Services to restore ancestral and cultural practices to improve health equity among Native Hawaiians and NHPI communities.
UH Hilo received $1.1 million from the U.S. Department of Education for its E Hoi I Ke Kumu program to address the Hawaiian language immersion teacher shortage in the state.
UH was awarded a $1 million NSF Engines Development Award to establish its Climate-Resilient Food Innovation Network that will serve as a hub for

Hawaiʻi

and U.S-affiliated Pacific Islands to develop collaborative, food innovation solutions driven by Indigenous knowledge systems and modern technology. UH could be eligible for another award of up to $160 million. Read more on UH News.
UH West

Oʻahu

received a $944,307 grant from the U.S. Department of Education to develop its He Paepae Aloha curriculum to increase Native Hawaiian participation and completion of post-secondary education through the incorporation of Native Hawaiian traditions and culture.