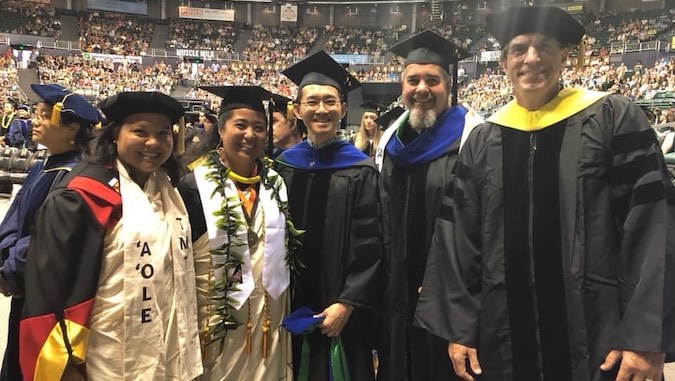 Kelsea Kanoho Hosoda's enriching experiences in STEM at the University of Hawaiʻi at Mānoa influenced her goal to one day make an impact in science education programs in Hawaiʻi.
UH Mānoa was a great place for me to deepen my knowledge in both sciences and ʻIke Hawaiʻi
—Kelsea Hosoda
The Native Hawaiian educator and UH Mānoa alumna is currently a postdoctoral scholar at the University of California San Francisco (UCSF). She was recently awarded the National Institutes of Health (NIH) K99 Maximizing Opportunities for Scientific and Academic Independent Careers (MOSAIC) grant, which enhances diversity within the academic biomedical research workforce through its support of promising postdocs into research faculty positions.
Thanks to the grant, she is one step closer to reaching her long-term goal of attaining a faculty position in Hawaiʻi to directly assess and improve the impact of STEM programs, particularly for Native Hawaiians and Pacific Islanders.
Finding community at UH
Hosoda has more than 10 years of experience in Indigenous STEM program development, implementation and analysis from her time at UH Mānoa.
She credits UH not only for its high-level academic courses but also for helping her develop a strong community of Native Hawaiians in STEM. During her nine years as a student, she earned her PhD in communication and information sciences, her MS in molecular biosciences and biological engineering and her BS in biology and Hawaiian language.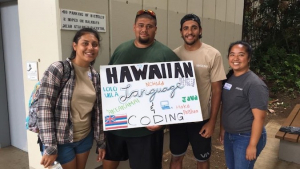 "UH Mānoa was a great place for me to deepen my knowledge in both sciences and ʻIke Hawaiʻi (Hawaiian knowledge) and influenced my research goal to further the science of mentorship and multicultural identity integration," said Hosoda.
Early in her college career, she became part of the Native Hawaiian Science & Engineering Mentorship Program (NHSEMP). "It provided a much-needed community of support to navigate through my biology degree and also maintain ties with the Native Hawaiian community through opportunities like tutoring at Ānuenue Hawaiian Immersion school and going on huakaʻi (learning journeys) to Kahoʻolawe," she said.
As part of NHSEMP, Hosoda attended the American Indian Science and Engineering (AISES) national conference and was impressed. "I was enamored by how Indigenous knowledge and sciences were seen in harmony through its council of elders, presentations and STEM industry partners."
Encouraged by what she learned, she worked with NHSEMP to co-found the first AISES chapter at UH Mānoa and in Hawaiʻi. Today, the chapter has grown in membership and involvement in the community.
In addition, Hosoda served as program manager for both NHSEMP and the Maile Mentoring Bridge Program in the School of Ocean and Earth Science and Technology, and helped support students in STEM majors through mentorship, cultural programming, career development, research experiences and more.
"It's thrilling that Native Hawaiian scholars such as Dr. Hosoda are being recognized and being funded by the NIH for research that centers culturally-relevant evaluation methods in biomedical training," said Rosie Alegado, associate professor of oceanography and one of Hosoda's mentors who served on her PhD dissertation committee. "This award supports the completion of Dr. Hosoda's postdoctoral training and her transition to an independent faculty position, and it would be a coup for UH to get her back."
Researching kindness and biomedical career pathways
At UCSF, Hosoda is working on two projects that focus on the science of mentorship, diversity and longitudinal quantitative program evaluation. The Social Influence of Kindness project examines how people give and receive kindness. Her quantitative research found that kindness is significant in promoting well-being, reducing stress and identifying as a member of one's defined institution.
Her second project, Scaling Up Biomedical Career Pathway Programs, works in collaboration with other institutions and builds on a previous study to increase the number of Indigenous STEM faculty at universities across the nation. She leads a virtual community of practice providing mentorship, networking and resource opportunities for Indigenous STEM scholars, and is interested in understanding how they see harmony or conflict between their Indigenous and STEM identities.
"Through the NIH grant, I will strengthen my expertise in quantitative research methods to validate culturally relevant measures for Indigenous populations, while growing my independent research program that informs interventions and programs that amplify the knowledge of Indigenous scholars pursuing biomedical science careers," said Hosoda.
—By Arlene Abiang