More than 100 Oʻahu high school students explored career and technical education by building benches, dying hair and more, at Honolulu Community College's inaugural Summer Career and Technical Education (CTE) Academy.
The six-week program, aimed at empowering the next generation of CTE professionals, ran from June through July, culminating in a closing ceremony that included presentations from the 10 participating programs, certificate presentations and camaraderie.
The Summer CTE Academy provided a unique learning opportunity for motivated high school students interested in exploring various career paths and gaining hands-on experience in diverse fields. This program focused on providing an engaging and interactive curriculum, such as constructing benches and stools in carpentry; toolboxes, dust pans and charcoal chimneys in sheet metal; sewing clothing; dying hair; writing songs; and working with children in Honolulu CC's childcare centers.
"The programs teach a basic introduction, so you get an idea of it as a career," said Jake Oshiro, a Pearl City High School student. "I enjoyed the fire and environmental emergency response program. It was a lot of fun and very hands-on."
Tyler Nishimura, another Pearl City High School student, participated in automotive technology, fire and environmental emergency response, and welding.
"I learned a lot, and I feel it will help me in the long run," Nishimura said.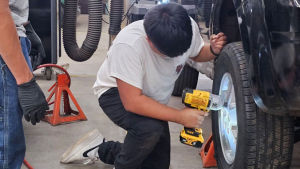 Summer CTE Academy participants chose three programs from a selection of exciting and innovative classes, including: automotive technology, carpentry technology, computing, security and networking technology, early childhood education, sheet metal and plastics technology, welding technology, cosmetology, fashion technology, and music and entertainment learning experience.
The program also included college readiness workshops, helping students navigate the college application process, financial aid and academic planning. In addition, the Center for Tomorrow's Leaders provided leadership development training to give students an advantage in whatever industry they choose to pursue.
"We were thrilled to pilot this Summer CTE Academy, as it reflects Honolulu CC's commitment to fostering a passion for learning and professional growth among high school students," said Norman Takeya, an associate professor." By offering these CTE courses, we hope to inspire the next generation of leaders and help them make informed career choices."
For more information about enrolling in next year's Summer CTE Academy or Honolulu CC contact Takeya at ntakeya@hawaii.edu or (808) 844-2376 or Pearl Wu at hccreach@hawaii.edu.