More than 86,000 pounds of marine debris were removed from Papahānaumokuākea Marine National Monument (Northwestern Hawaiian Islands) by a team from Hawaiʻi-based non-profit organization Papahānaumokuākea Marine Debris Project (PMDP). Nine of the 16 team members who were involved in the 30-day mission during July and August have ties to the University of Hawaiʻi.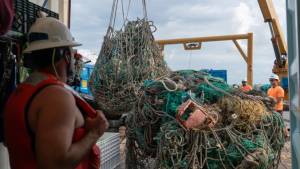 Of the 86,100 pounds of marine debris removed, 69,330 pounds or more than 80% were ghost nets:
57,240 pounds removed from Kamokuokamohoaliʻi (Maro Reef)
All 57,240 pounds were ghost nets removed from the coral reefs
16,820 pounds removed from Kamole (Laysan Island)
6,720 pounds were ghost nets removed from the shorelines
10,100 pounds were plastic and other debris removed from the shorelines
12,040 pounds removed from Kapou (Lisianski Island)
5,370 pounds were ghost nets removed from the shorelines
6,670 pounds were plastic and other debris removed from the shorelines
"It feels good to be able to remove these nets and prevent entanglements to wildlife and damage to the healthy coral reefs, but at the same time it's heartbreaking to see the continual influx of marine debris in one of the most pristine, protected places in the world," said PMDP Executive Director James Morioka, a 2012 UH Mānoa graduate in marine biology and RCUH employee from 2011 to 2022.
"We need to do better globally to prevent these nets from entering the oceans, and it all starts with the decisions we make at home in our daily lives."
Ghost net dangers
Using their team of highly-skilled freedivers and small boat operators, PMDP conducted the cleanups focusing on carefully removing ghost nets from the shallow coral reef environments. These ghost nets pose entanglement threats to protected endemic wildlife and suffocating negative impacts to the living coral reef habitats. The team also disentangled and saved a Hawaiian green sea turtle from a net, as well as several protected seabirds.
"If PMDP isn't there to clean up Papahānaumokuākea, no one is," Morioka said. "We happened to be in the right place at the right time to save that turtle. You can only imagine how many more lost animals there would be if PMDP wasn't preemptively cleaning up these reefs."
UH impact
Other PMDP team members with UH ties: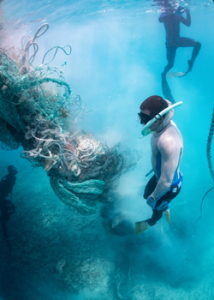 Kevin O'Brien (PMDP president and founder)—UH Mānoa, 2006, BA zoology; RCUH employee, 2007–19

Kaʻehukai

Grant Goin—UH Mānoa, 2021, BA Hawaiian studies; currently pursuing a MS in tropical conservation biology and environmental sciences at UH Hilo
Sydney Luitgaarden—UH Mānoa, 2019, BS marine biology
Nāmele Naipo-Arsiga—UH Mānoa, 2017, BS kinesiology and rehabilitation science
Charlotte Frank—currently enrolled at UH Mānoa in the Graduate Ocean Policy Certificate program in the College of Social Sciences
Kiana Poki—UH Mānoa, 2014, BA sociology and psychology
Sean Guerin—RCUH employee, 2005–06, 2009–13
Andrew Sullivan-Haskins—RCUH employee, 2017–present
Max Moonier—

Hawaiʻi

Institute of Marine Biology employee, Coral Resilience Lab
Lauren Chamberlain (Fraser)—former UH Mānoa student
Ford Stallsmith—former

Hawaiʻi

Community College—Pālamanui student
The team has a second mission to Papahānaumokuākea Marine National Monument in 2023 scheduled for August 26–September 22. Since 2020, PMDP has removed a total of 589,847 pounds of debris from Papahānaumokuākea. Over the last two years, the PMDP team has removed more than 143,345 pounds of ghost nets from just one single coral reef system: Kamokuokamohoaliʻi (Maro Reef).
A majority of the debris will be incinerated to generate electricity for powering hundreds of Oʻahu homes. Recyclable plastics will be set aside for PMDP's local student-led ocean plastics recycling project.