For Maui residents seeking employment, the Good Jobs Hawaiʻi initiative is offering free job training through the University of Hawaiʻi Maui College and other online programs through the UH Community College System. These free trainings will provide opportunities for people to upskill and earn industry credentials in the healthcare, skilled trades and technology industries which will lead to employment, paid internships and apprenticeship pathways.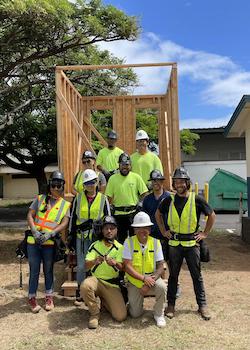 Sign ups for online and in-person trainings of different durations are now available through the Good Jobs Hawaiʻi website.
"Our hearts go out to Maui residents impacted by the wildfire disaster and we hope that these free job training programs will be able to support displaced residents in need of employment opportunities," said Dan Doerger, director of Workforce Innovation at UH Community Colleges.
Trainings that are being offered include: Carpenter Pre-Apprenticeship, 3D CAD: Intro to Products and Advanced Manufacturing, and Clean Energy courses in the skilled trades; Pharmacy Technician, Phlebotomy Technician, Patient Services Rep and Registered Behavior Technician courses in the healthcare sector; and IT courses including CyberSecurity, Amazon Web Services certifications and CompTIA certifications.
Fostering local talent
"Having an advanced manufacturing training program teaching CAD software skills on island, will not only allow our local companies like Goya Windsurfing, KT Surfing and Pacific Millworks to grow our local manufacturing sector, it will also help us to reduce our carbon footprint and be able to hire locally on Maui and help strengthen our community," said Francisco Goya, founder of Goya Windsurfing.
"I enrolled in the Carpentry Pre-Apprenticeship training at UH Maui College," said Good Jobs student Isaac Hansen. "The class and paid internship was a great way for me to learn more about becoming a journeyworker carpenter, gain work experience at a PV install project on island, and prepare me to join the apprenticeship program."
More than $3 million in funding from the U.S. Department of Education is available for tuition this year. Eligible applicants receive tuition assistance for courses and other training costs such as books and industry certification exam fees. The program is free for most eligible participants, since many of the trainings provide a 100% tuition subsidy to cover all costs. Wrap-around support services are also offered to students including college and career advising, referrals to community partners with supportive services and other financial assistance.
Visit Good Jobs Hawaiʻi to learn more and apply online for current trainings.