For the first time, 10 University of Hawaiʻi Community College culinary students studied Spanish regional cuisine and more in Barcelona for two weeks.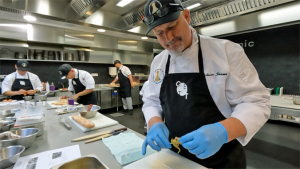 In July, the inaugural Culinary Institute of the Pacific's Advanced Culinary Experience (ACE) course gave eight students from Kapiʻolani CC and two from Leeward CC the opportunity to work with Chef Alberto Ripa, who has experience with multiple Michelin Star restaurants, and other top instructional faculty members of CETT Barcelona School of Tourism, Hospitality and Gastronomy at the University of Barcelona.
The intensive program incorporated lessons on Spanish food history and culture, a sommelier-led tasting and comparison of various olive oils, workshops on tapas and Michelin Star dishes, and discussions on issues of sustainability and gastronomy.
We brought aloha to Spain and we will bring back some of the culinary and gastronomy practices back to Hawaiʻi.
—Aaron Johnson
"The people at CETT were just phenomenal instructors with such vast knowledge," said Aaron Johnson, Kapiʻolani CC culinary student. "An example would be the olive oil class that we had and learning about the different types of olives, regions that they came from, and the sizes and complex flavors that you can have with something as simple as olive oil. Chef Alberto and the classes of amazing science, intelligence and creativity that goes into creating gastronomic foods is just incredible. We brought aloha to Spain and we will bring back some of the culinary and gastronomy practices back to Hawaiʻi."
Simple ingredients, amazing creations
In addition to learning Spain's most iconic dishes such as paella and various tapas, students also visited some of the top patisserie (pastry) businesses in Barcelona, including a meeting with Josep Rodriguez, a graduate of the renowned Hoffman School and 2011 winner of the La Coupe du Monde de la Patisserie—regarded as the World Cup of patisserie.
Students explored the vibrant culinary and gastronomic scene of the city that brought their classroom knowledge to life. Learning opportunities beyond the kitchen included a winery visit where students compared and discussed various uses of vinaigrettes, and a hike through the mountains on a gastro-botanical field trip to understand the relationship between climate, gastronomy and traditional ingredients.
"Everything just seems so simple here," said Kapiʻolani CC culinary student Desiree Fleming. "(We are) creating something so flavorful and amazing with just simple ingredients. It puts you in a different mindset on how to perceive food and how culture plays a whole part in that. The food is as simple as the people and as friendly and inviting as they are."
Swimming with the fishes
One of the key highlights of the experiential learning was a discussion and site visit to a tuna farm where students swam in the Mediterranean Sea with giant tuna—some exceeding 7 feet in length and weighing up to 600 lbs.
Learning the culture and history of Spain and how much passion they have, it relates to Hawaiʻi and our culture.
—Chanelle San.
"Learning the culture and history of Spain and how much passion they have, it relates to Hawaiʻi and our culture," said Leeward CC culinary student Chanelle San. "We understand and appreciate the ingredients of where we come from and the stories behind it. You can see it in their heart that they love their culture and just like back home with kalo (taro), it's a very spiritual thing and it's a beautiful connection. It makes the food even better."
Redefining culinary education
Kapiʻolani CC's culinary program launched the innovative ACE course as part of an effort to redefine culinary education. The program aspires to renew a passion for the culinary arts across the State of Hawaiʻi, while reshaping the way students engage with the industry, and diversifying how they learn by extending education beyond the confines of the kitchen to local, national and international exploration.
"The Advanced Culinary Experience is intentionally designed to step out of the classroom and immerse our students in different areas that relate to the culinary industry, whether it's a cacao, coffee or pig farm, an entrepreneurship opportunity or learning about another country's culture and cuisine," said Grant Itomitsu, Kapiʻolani CC culinary program department chair. "Through these experiences students will develop a greater appreciation of the cycle of food in Hawaiʻi and throughout the world. Ultimately, these students transition to the food industry with an improved well-rounded education, global mindset and, most importantly, a strong passion for the culinary arts."
The ACE study-abroad in Barcelona originated from a collaboration between the Paul S. Honda International Center, Kapiʻolani CC's culinary program, Leeward CC's culinary program and CETT at the Universitat de Barcelona, and demonstrates the potential of partnerships in shaping innovative education. Costs for the ACE study-abroad in Barcelona were offset by the generosity of multiple donors, so students just covered their regular tuition. The partners believe their shared commitment to pursue culinary excellence and develop global mindsets will continue to influence the future of aspiring culinary professionals.