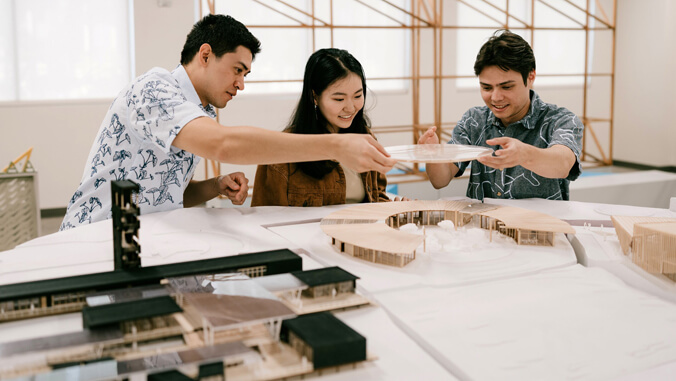 A collaborative project to develop the world's most comprehensive Indigenous language campus at the University of Hawaiʻi at Hilo has received two architectural design awards. The designs for the ʻŌlelo Hawaiʻi Campus project—a proposed preschool-through-PhD educational system taught entirely in ʻōlelo Hawaiʻi (Hawaiian language)—was recognized internationally with a 2023 Fast Company Innovation by Design Award, and locally with an Award of Excellence in American Institute of Architects (AIA) Honolulu's 65th Annual Design Awards.
The designs are a collaboration between teams from the UH Community Design Center of the UH Mānoa School of Architecture, the UH Hilo Office of the Vice Chancellor for Administrative Affairs and UH Hilo's longstanding Hawaiian language consortium, known as the Hawaiʻi ʻImiloa Institute, comprised of Ka Haka ʻUla O Keʻelikōlani College of Hawaiian Language, ʻImiloa, Ke Kula ʻo Nāwahīokalaniʻōpuʻu and the ʻAha Pūnana Leo. This multi-phase project highlights and aligns ceremonial protocol spaces for three new buildings of the proposed campus that will feature views of Hilo Bay and Maunakea.
"What an exciting recognition for a critically important project that will position UH Hilo at the forefront of global Indigenous language revitalization and normalization," said UH Hilo Chancellor Bonnie D. Irwin. "There are so many units within the UH Hilo ʻohana working to make this vision a reality and we appreciated the collaboration with UH Mānoa School of Architecture."
Fast Company's Innovation by Design Awards is an international competition in its 12th year that recognizes projects that change the way people interact with the world around them. The ʻŌlelo Hawaiʻi Campus design was honored in the Social Justice category, for solving the most crucial problems of today and anticipating the pressing issues of tomorrow.
The Award of Excellence is AIA Honolulu's highest honor and recognizes projects that exemplify excellence of architectural design on all levels of analysis, and exemplify the highest standards to which AIA members aspire. The AIA Honolulu's Annual Design Awards has been held annually since 1958. Honorees can be found in the September issue of Hawaiʻi Business Magazine.
The ʻŌlelo
Hawaiʻi

Campus project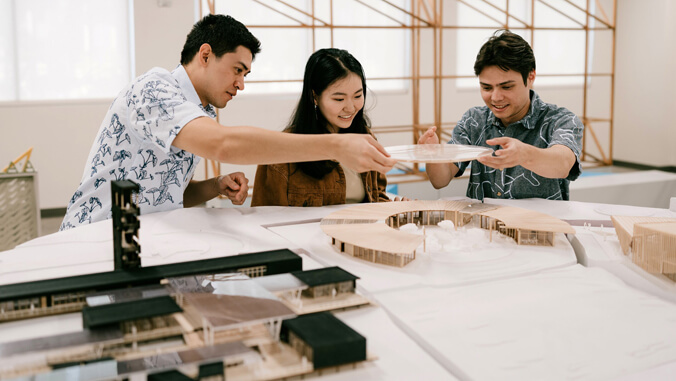 The proposed ʻŌlelo Hawaiʻi Campus project is envisioned to be a complete educational system that will cultivate a legacy of language and learning. The ʻŌlelo Hawaiʻi Campus represents UH Hilo's commitment to renormalizing ʻōlelo not just in Hilo, but throughout all of Hawaiʻi, according to Kaʻiu Kimura, UH Hilo's Ka Haka ʻUla O Keʻelikōlani College of Hawaiian Language director and ʻImiloa Astronomy Center director, who was also a member of the winning design team.
"Guided by a constellation of dedicated minds, including the visionaries at the Hawaiʻi ʻImiloa Institute, we weave our heritage into the fabric of education," said Kimura. "With each brick and beam, we echo the voices of generations past and empower the voices of generations yet to come. This recognition affirms our journey toward a future where our native languages thrive, our cultures soar and our people flourish."
ʻŌlelo
Hawaiʻi

Campus master plan
The master plan for the campus is organized around a series of physical alignments, responding to the nine cultural pathways of Nā Honua Mauli Ola for culturally healthy and responsive learning environments, developed by members of Hawaiʻi ʻImiloa. The project proposes the design of three buildings:
Pūnana Leo o Mōkaulele, a preschool, centered around all-weather play spaces and ʻohana-oriented classrooms;
Hale

Kuamoʻo

, a compact production facility supporting a teaching practice and the research-development-production-distribution cycle of technologies and resources for Hawaiian language education; and the
Graduate Center and Mokuola Honua Global Center for Indigenous Language Excellence, located in a series of structures that minimally touch the site.
The Hawaiʻi ʻImiloa Institute is a longstanding statewide consortium of schools and nonprofit organizations that supports a P-25 Hawaiian Indigenous Language Cycle that spans from preschool to PhD. The success of this consortium of community leaders and educators has seen Hawaiʻi become an aspirational model for similar Indigenous language programs across the nation and around the world.
The ʻŌlelo Hawaiʻi Campus is a joint venture between multiple units at UH Hilo of the UH Community Design Center out of the UH Mānoa School of Architecture, UH Hilo Office of the Chancellor, Kuʻikahi Consortium Partners (Ka Haka ʻUla o Keʻelikōlani, Ke Kula ʻo Nāwahīokalaniʻōpuʻu, ʻAha Pūnana Leo, Hale Kuamoʻo, Mokuola Honua, ʻImiloa) and the UH System Office of the Vice President of Administration.
Winning design team
The design team was led by Principal Investigators Brian Strawn and Karla Sierralta, associate professor at UH Mānoa School of Architecture, in collaboration with Keiki Kawaiʻaeʻa, associate professor and UH Hilo interim vice chancellor for academic affairs, and Kimura, together with a team of student project assistants and research associates employed through the UH Community Design Center platform.