The community gathered on the University of Hawaiʻi Maui College's Great Lawn on September 1 as part of a statewide, day-long vigil entitled Kīpuni Aloha no Maui (Embrace beloved Maui) in support of the Valley Isle.
The portion at UH Maui College was led by Kumu Hula Hōkūlani Holt in partnership with other kumu hula, cultural practitioners and faith leaders.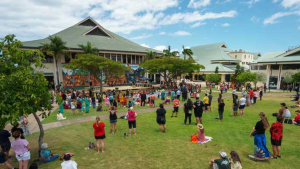 About 2,500 students started their first day of the fall semester at UH Maui College on August 28. Their start was delayed by a week because of the devastating impact of the Maui wildfires.
UH Maui College has already been helping the community there to heal. The campus has turned the Student Lounge into a Disaster Recovery Center, housing a FEMA assistance location, the U.S. Small Business Administration and the American Red Cross, all to help Maui residents. The college's Pāʻina Building has served as a food preparation hub since August 10, feeding thousands of displaced residents every day.
More on how to help Maui ʻohana and the Maui wildfires.
In his August 26 column in The Maui News, Chancellor Lui Hokoana wrote: "Like everyone on Maui, I and the entire staff, faculty and administration of UH Maui College are mourning the tragic loss of life, livelihoods, property and the whole of the historic town of Lahaina. We stand firm and ready to support our campus ʻohana and our community at large as we face the future."
The statewide vigil was organized by Rediscovering Hawaiʻi's Soul, an initiative of the Hawaiʻi Executive Collaboration, and was described as "centered on emotional and spiritual healing that is rooted in Native Hawaiian practices with leaders from diverse faiths." Ceremonies from Oʻahu, Hawaiʻi Island, Molokaʻi and Kauaʻi were also live streamed.