Transformative work on community-driven research projects has earned a University of Hawaiʻi at Mānoa School of Life Sciences PhD student a national honor.
Maile Wong, a spring 2023 graduate in botany and ʻŌlelo Hawaiʻi, was named one of four 2023 Portz Scholars by the National Collegiate Honors Council (NCHC). Wong will receive a $375 stipend, a certificate and will present her research at the NCHC conference this November in Chicago.
"I am honored for this work to be recognized, but more than that I am excited that the type of research this work represents is being recognized at a national level. Community-driven research is critical to creating meaningful change," Wong said. "I am inspired by the many Kānaka ʻŌiwi scientists who have committed their lives to doing this type of work, and most of all, I am humbled by the fierce aloha ʻāina who work tirelessly in ʻāina to grow and implement a collective vision for Hawaiʻi's future."
Nearly 900 NCHC institutional members can nominate only one thesis per institution written by an undergraduate honors student for the competition each semester. Wong is the sixth UH Mānoa Honors student over the past eight years to earn this recognition.
Critical conservation projects on
Oʻahu

,

Kauaʻi

Wong's Honors Program thesis, E Paʻa Ke Kahua: Building Foundational Skills for Engaging in Community-driven Research, highlights the work she has done to improve her community through engaging in research.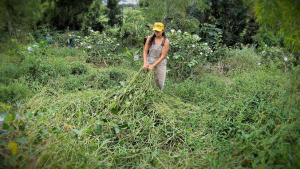 The projects include:
Working in

Heʻeia

at a location called

Puʻulani

for more than three years. Through a partnership with UH and

Kākoʻo

ʻŌiwi

, volunteers have transformed the area that was once filled with non-native species into an agroforest (integration of trees and shrubs into crop systems to create environmental, economic and social benefits) that provides materials for lei and food, and opportunities for the community to access and connect with it. Read more in UH News.
Investigating the effects of seawater inundation on coastal dune plants in a controlled greenhouse environment. This project builds off a previous field experiment, which Wong conducted at the National Tropical Botanical Gardens on

Kauaʻi

to test how seawater flooding affected the survival of seedlings out-planted into the dunes.
Interviewing 36 agroforestry practitioners, asking about the motivators and barriers to their practice. They found a clear contrast between Indigenous agroforestry practitioners and other practitioners. Barriers include that Indigenous knowledge is not valued and that practitioners are unable to access suitable information. Wong created a map of agroforestry practitioners with layers that group practitioners with similar foci (those focused on education, those focused on commercial production, those focused on preserving cultural practices and placed-based knowledge, etc).
UH Mānoa School of Life Sciences Professor Tamara Ticktin was Wong's project mentor.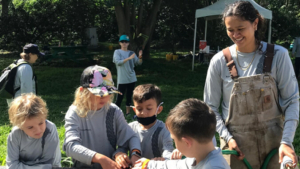 "Maile's honor's thesis provides a model for interdisciplinary community-engaged research: she beautifully interweaves Indigenous and western methodologies, natural and social sciences, theory and on-the-ground-management, and products for both academic and community audiences," Ticktin said. "Maile's thesis demonstrates both academic excellence and true commitment to place and to community. I am thrilled that Maile's incredible work has been recognized with this prestigious national prize."
Wong concluded, "I am grateful to my mentors, Dr. Tamara Ticktin and Dr. Kasey Barton who lead by example and who have supported me immensely along the way, I am grateful for the Honors Program, and my honors advisor Dr. Vernadette Gonzalez for creating the space in my education to engage in research and for pushing my limits."
By Marc Arakaki