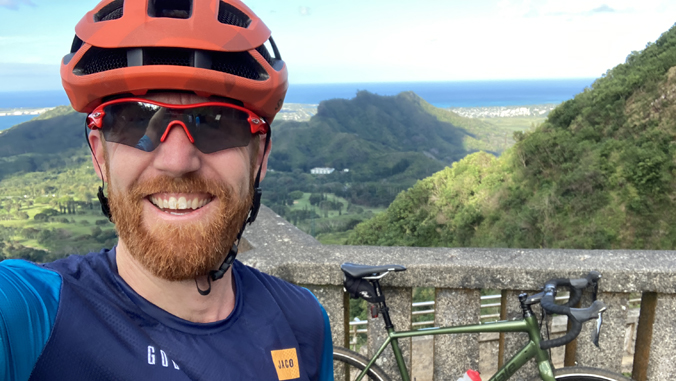 Travis Counsell lives his passion for bicycles every day as the executive director of the Hawaiʻi Bicycling League (HBL), a local nonprofit that represents all people who bike for recreation, health or transportation.
In this role, the 2019 graduate of the Executive MBA program in the University of Hawaiʻi at Mānoa's Shidler College of Business leads the organization to enable more people to ride bicycles. HBL advocates for legislative changes and infrastructure improvements, supports educational programs and oversees large events. He helps to secure grants and funding sources and is working on the strategic planning for the upcoming 50th anniversary in 2025. HBL is also preparing for the 40th anniversary of its Honolulu Century Ride in late September 2023. For Counsell, one of the most rewarding aspects of his job is that it brings people happiness.
"Whether that's a fourth grader who just learned how to bike, or a family biking to the beach, bikes are part of the solution to so many complex issues, such as climate change, cost of living, transportation equality and more," he said. "Being a part of coalitions that seek to better our future in various ways is very rewarding."
Before taking the helm at HBL, Counsell served as its membership coordinator and then events director. He rode his bike to school as a child and later worked in bike shops. When he was in college, he biked across the country. After enrolling in Shidler College's Executive MBA program, he craved a leadership role within HBL, which he successfully landed.
One of Counsell's biggest challenges is that change is slow, especially when it comes to infrastructure.
"But by being persistent, we can keep progress on track and it's very rewarding once accomplished," Counsell said.
Ultimately, he feels fortunate he's able to turn his passion into a career to help others.
For more stories like this, see the spring/summer 2023 edition of Shidler Business.