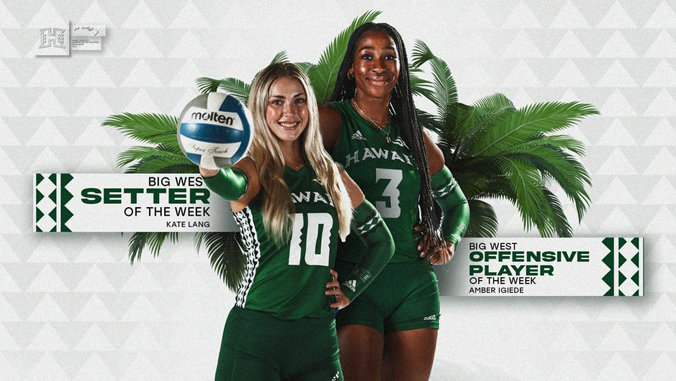 For the first time since 2019, the University of Hawaiʻi women's volleyball team (4-1) is nationally ranked, coming in at No. 23 in the country in the American Volleyball Coaches Association/TARAFLEX top 25 poll. The recognition comes after the Rainbow Wahine's two-match series sweep of the University of Southern California (USC).
In addition, Amber Igiede and Kate Lang both earned their second-straight Big West Offensive Player and Setter of the Week awards, respectively, for their play against USC.
This is Igiede's eighth career Big West weekly honor—five of which were for Offensive Player of the Week. In the first match against the Women of Troy, the senior middle blocker recorded team-highs with 16 kills, while hitting .367, with eight total blocks. Then in the second match, she put down a team-best 15 kills with just one error to hit a match-high .609.
During the third set of the second match, Igiede became just the 21st Rainbow Wahine to record 1,000 career kills.
Lang now has received seven career weekly honors, five as Setter of the Week. The junior dished out 91 of the team's 102 assists to go with 22 digs, six aces and two kills in two wins over USC. In the first match, Lang compiled 44 assists and finished the match one dig shy of a double-double with nine, while serving up three aces and a kill. In the second match, Lang notched her second double-double of the season with 47 assists with three errors for a .427 set percentage, while scooping up a team-high 13 digs and adding three more aces. Lang currently leads the Big West Conference with 10.05 assists per set.
Igiede, Lang and the Rainbow Wahine will stay in Honolulu to host the Outrigger Volleyball Challenge September 7, 8 and 10. UH will play Liberty on September 7 at 7 p.m., Pepperdine on September 8 at 7 p.m. and UCLA on September 10 at 5 p.m. All matches will be at the SimpliFi Arena at Stan Sheriff Center.