A rural family medicine residency program on Kauaʻi is in the works that will provide more access to care for Garden Isle residents, thanks to a $750,000-grant from the U.S. Department of Health and Human Services through the Health Resources and Services Administration (HRSA).
With the physician shortage impacting the neighbor islands and other rural areas, families on Kauaʻi often struggle to find care. The three-year grant partners the University of Hawaiʻi at Mānoa John A. Burns School of Medicine (JABSOM), Hawaiʻi Pacific Health, Hawaiʻi Health Systems Corporation Kauaʻi, the Kauaʻi District Health Office and the broader Garden Isle healthcare community as they aim to break down barriers in accessing care by establishing new residency programs in rural communities.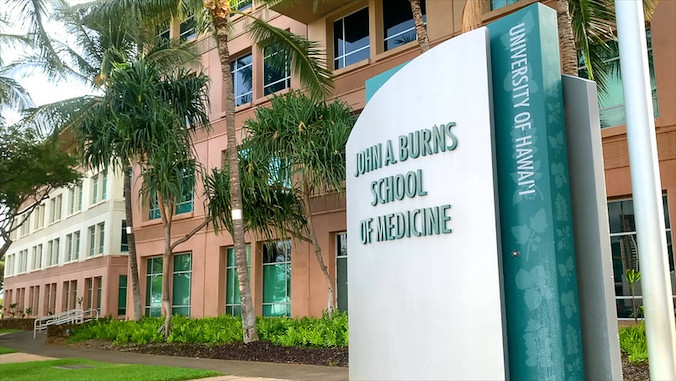 Currently, the 233 residents and fellows in 18 specialties sponsored by JABSOM's Graduate Medical Education enterprise train almost exclusively on Oʻahu. The proposed rural-track curriculum would now provide a cohort with more than 60% of the family medicine residency training on Kauaʻi once the program is approved by the Accreditation Council on Graduate Medical Education.
The program, which embeds more interdisciplinary training opportunities with public health than many existing family medicine residencies, will strengthen and grow the health workforce, which will eventually make it easier for Kauaʻi families to access care.
"Family medicine physicians care for entire families, from the youngest children to the kūpuna," said Allen Hixon, chair of JABSOM Department of Family Medicine and Community Health, and Hawaiʻi Pacific Health chief of academic family medicine. "With the ongoing shortage of primary care physicians, especially in rural areas, this federal grant provides an incredible opportunity for JABSOM to partner with Hawaiʻi Pacific Health, the state Department of Health and the Kauaʻicommunity to train the next generation of family medicine physicians on Kauaʻi."
Under the new initiative, a cohort of residents of the JABSOM's Family Medicine Program will spend their first year training at Hawaiʻi Pacific Health and other clinical sites on Oʻahu Their second and third years of residency will be spent training primarily at Wilcox Health on Kauaʻi.
"We value our relationship with the John A. Burns School of Medicine as we work together with the University of Hawaiʻi to create a pipeline for future physicians on Kauaʻi," said Jen Chahanovich, president and CEO of Wilcox Medical Center and CEO of Kauaʻi Medical Clinic. "The family medicine residents will gain valuable experience and knowledge while training in a rural setting side-by-side with our providers. These residents are the future of health care and we hope to inspire them to continue their careers on Kauaʻi."
According to the Hawaiʻi Department of Health, the entire state, outside of Honolulu, is designated as a primary medical Health Professional Shortage Area. Physician shortages, poverty and geographic isolation contribute to lack of access to care and poorer health outcomes for those in rural areas.
"We are very grateful to HRSA for awarding this grant and recognizing the health workforce needs of rural Hawaiʻi," Hixon said.
This funding through the planning grant may be used to support accreditation costs, curriculum development, faculty recruitment and retention, resident recruitment activities and consultation services to support program development. A formal accreditation application will be developed by the partnership, with the aim of recruiting in the inaugural class by the end of the project period.