Dozens of high school college and career counselors from around the state gathered at the University of Hawaiʻi at Mānoa on September 8, to meet with teams from all 10 UH campuses and learn more about the latest programs and activities. The counselors represented both public and private schools.
The UH Mānoa admissions office has been holding the annual High School Counselors Workshop for more than 30 years, continually refreshing the event to support the evolving needs of counselors. Both counselors and recruiters from the campuses say the face-to-face time is important.
"Personal connections with the UH team is critical," said Director of College Counseling for Maui Preparatory Academy Keenan Reader. "Interacting with colleagues at other schools and learning the new UH programs and activities is pivotal to providing my students with relevant information."
"I see the benefit of us being here and connected," said UH Mānoa recruiter Kayden Iwasaki. "I get to see these people and say, 'Hi, I'm your counselor,' in person compared to online platforms where it has been harder to connect."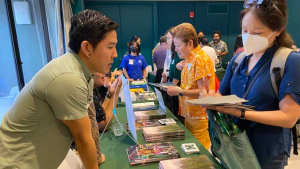 10-campus system on display
This year, a resource fair featured recruiters from most of the 10 campuses and some of the UH programs.
Kapiʻolani Community College's Kuilei Outreach Program Coordinator Sheldon Tawata helped to organize the topics and recruiters from the different campuses.
"Having everyone under the same roof is amazing," Tawata said.
"Being able to see UH as an integrated system and that everyone is working together is very important," Reader said. "I get to learn more about specific programs and opportunities that give my students more details instead of generalized information."
Being connected with the local high school counselors allowed for organizers to provide workshops on topics of interest. The conference featured workshops from admissions tips for the four-year UH campuses and the community colleges, opportunities for students, and on mental health wellness.
"Mental health is a timely subject," Tawata said. "The counselors want as much information as they can get to help navigate all the dynamics based on the wide-range of students they have."