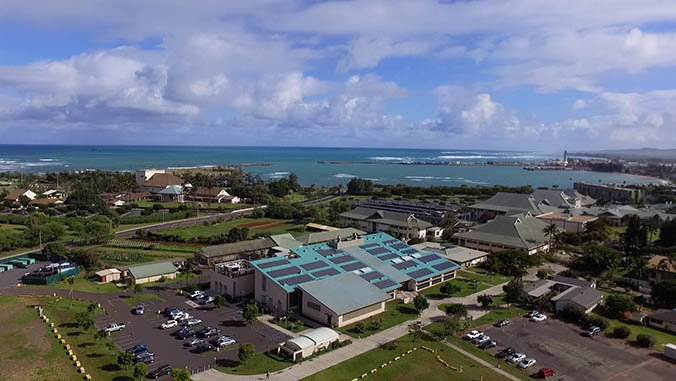 Five University of Hawaiʻi campuses have been recognized as top performers in the 2023 Sustainable Campus Index, earning bronze ratings from the Association for the Advancement of Sustainability in Higher Education (AASHE). UH Mānoa, Honolulu Community College, UH Maui College, Windward Community College and Hawaiʻi Community College accomplished this significant milestone in sustainability.
"It demonstrates and showcases that we are committed to sustainability across our campuses," said Miles Topping, director of the UH Office of Sustainability. "We are committed to improving these ratings to the highest level, as we continue to be a leader in sustainability."
The Sustainable Campus Index recognizes top-performing sustainable colleges and universities overall and in 17 impact areas—ranging from "Air and Climate" to "Wellbeing and Work"—as measured through AASHE's Sustainability Tracking, Assessment and Rating System. A bronze rating provides a basis for improvement, and opens up opportunities for recognition, funding and attracting individuals who share UH's sustainability values.
"This is an important milestone for our institution as it aligns us with our peer and benchmark institutions who are also actively utilizing the framework," said Laurel Pikcunas, VISTA program manager for the UH Office of Sustainability. "By submitting these first reports, we are joining our peers in tracking progress and sharing our achievements."
AASHE recognizes the numerous ways UH campuses have made strides to advance sustainability practices while offering a snapshot into their current performance. This includes: offering sustainability-focused courses; requiring new construction and major renovations to achieve a minimum of LEED Silver designation; improving campus energy efficiency by increasing the amount of renewable energy infrastructure; among other initiatives.
"We learned a lot from this first submission, especially regarding ways we can measure sustainability," said Pikcunas. "We discovered that certain data wasn't available for reporting because it had never been requested before. Now that these metrics are in demand, we've engaged others in tracking down the data and establishing procedures for consistent reporting in subsequent years."