A popular series geared toward building pilina—deep connections, relationships and interdependence—within oneself, others and ʻāina has returned to the University of Hawaiʻi at Mānoa.
This fall, the Native Hawaiian Place of Learning (NHPoL) Advancement Office welcomes students, faculty, staff and the off-campus community to engage in the Aloha ʻĀina Fridays free weekly workshops on oli (Hawaiian chant), body movement/visualization and mālama ʻāina (caring for ʻāina).
"Our team is excited to bring back this series for the fall because we want everyone to build a connection to this place," said Kawehionālani Goto, UH Mānoa NHPoL Advancement Office Program Specialist. "This is one way I have come to nourish my mind, body and spirit, and we are excited to be in community and learn together."
Participants have expressed their appreciation for the program. Following a body movement session on September 15, one member of the community described the opportunity to take mindful breaks to connect with community, ʻāina, ʻaumakua and Wākea as powerful.
Aloha ʻĀina Fridays schedule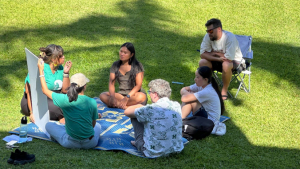 Kūkulu Kumuhana Contemplative sessions: September 29; October 13; November 3, 17; December 15
(online) 45 minutes of gentle movement, breathing exercises and meditation/visualization. Presented in collaboration with the Pilina Center for Wellbeing.
Huli ka lima i lalo: Mālama ʻĀina: September 22 and October 27
Hands-on interaction with ʻāina; caring, planting, cutting and cleaning plants on campus.
Welina Mānoa chant workshops: October 6 and December 8
(

Hawaiʻi

Hall lawn) Hour-long workshop to learn oli, Welina Mānoa, composed by Kumu R. Keawe Lopes Jr., director of UH Mānoa Kawaihuelani Center for Hawaiian Language.
The program is hosted by NHPoL Advancement Office, UH Mānoa Campus Arboretum, Buildings and Grounds Management, and Kūkulu Kumuhana Working Group and the Pilina Center of Wellbeing.
The fall 2023 series launched on September 8 with a Welina Mānoa oli workshop. Participants learned the chant and its meaning which touches upon elements felt throughout the ahupuaʻa of Mānoa such as the Tuahine rain and her brother, the Kahaukani wind.
RSVP for this series or email nhpol@hawaii.edu for more information.