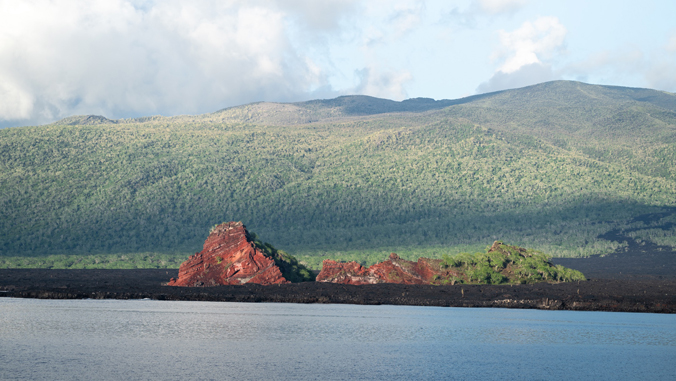 Approximately 24 University of Hawaiʻi at Mānoa undergraduate students will have a once-in-a-lifetime opportunity to conduct research over the next three summers. The students who apply and are accepted for the all-expenses-paid project will spend a summer at one of the richest locations for ecological research in the world outside of Hawaiʻi—the Galápagos Islands.
The National Science Foundation—International Research Experiences for Students: Immersive Research in Galápagos program encompasses a unique blend of Indigenous and Western science and culture, with a core focus on the field of island invasion biology in the Pacific.
Research areas are:
Creating the

moʻolelo

(story) of the

huakaʻi

(journey) to and from the Galápagos Islands through a Native Hawaiian cosmological and cultural perspective
Understanding mechanisms of invasion by problematic introduced terrestrial plant and animal species
Assessing the extent and impact of non-Indigenous species on marine ecosystems of the Galápagos Marine Reserve
Evaluating techniques to reduce the impacts of the invasive Avian Vampire Fly, Philornis downsi, on Darwin's finches and other small land birds
Applicants for the summer 2024 eight-week program must be a UH Mānoa undergraduate student with a graduation date no earlier than December 2024. Students from all academic backgrounds and degree programs are encouraged to apply, and at least eight students will be selected. The program covers travel, accommodations and a summer stipend. In addition, students will take a required spring course and will be able to register for summer directed research credits that can be used as elective credits towards degree program requirements.
"UROP (Undergraduate Research Opportunities Program) is very excited to help bring this opportunity to our campus for UH Mānoa undergraduate students to get real-world, applied research experience in one of the most iconic and intensely studied island chains in the world," said UROP Director Creighton Litton. "The parallels between Hawaiʻi and Galápagos are remarkable, both in terms of their biology and geology, but also the threats that native species and ecosystems face today such as the introduction and spread of invasive species. As such, participating students will be able to bring and apply the knowledge and experiences gained in Galápagos back home to Hawaiʻi."
This unique opportunity is the result of a collaboration between UH Mānoa and the Charles Darwin Foundation, and is funded by the National Science Foundation—International Research Experiences for Students ($300,000 grant), the UH Mānoa Provost's Office to align the overall program with the campus goal of becoming a Native Hawaiian Place of Learning ($100,000) and the UH Mānoa Office of the Vice Provost for Research and Scholarship ($50,000). The funds will make the program available to UH Mānoa undergraduate students for three years.
Research integrates Indigenous knowledge, place-based science
Accepted students will be required to take a four-credit Island Invasion Biology course in spring 2024 taught by UH Mānoa faculty. The immersive lab and lecture course will be rooted in place-based science and is designed to equip students with a solid understanding of the impacts of invasive species in island ecosystems, and the options for managing them. But it's not just about western scientific knowledge and practice; it's also about fostering an appreciation for Hawaiian culture, Indigenous resource management and human connections to land- and seascapes through aloha ʻāina and mālama ʻāina activities.
"By embracing the values of moʻokuauhau (ancestral connections), kaikuaʻana and kaikaina (mentoring relationships), kuleana (responsibility), mālama ʻāina (environmental stewardship), and hānai and hoʻomalu (care and protection) and weaving together Indigenous wisdom with contemporary understanding, our program will provide a transformative experience that encourages students to explore innovative approaches to problem-solving," said UH Mānoa Pacific Biosciences Research Center Assistant Professor Kiana Frank. "Our intentional approach will expand students' thinking beyond convention and equip them to address future ecological challenges in the Galápagos, Hawaiʻi, and other island systems with creativity and adaptability, mirroring the wisdom of our kūpuna (ancestors)."
Throughout the spring, selected students will design research proposals for the summer in Galápagos, collaborate on group projects in Hawaiʻi, and form pilina (connections/relationships) with place, as well as each other and mentors from UH Mānoa and the Charles Darwin Foundation.
"There are many parallels between these two Pacific archipelagos and lessons to be learned from each," said Rakan Zahawi, Charles Darwin Foundation executive director and chief executive officer, and former director of UH Mānoa's Lyon Arboretum. "Since moving here from Hawaiʻi, I have been amazed at how much similarity there is between them. So, we anticipate that this immersive experience for UH Mānoa students will transform how they view and care for these incredibly fragile insular systems and make them better stewards and ambassadors for their conservation."
UROP is hosting an informational session about the program on October 17, 3:30–4:30 p.m. on Zoom. For more information and to apply, visit UROP's website.