Masaru Oshiro, 95, dedicated his life's career to social work and focused on helping meet people's basic needs to enhance their well-being. For his positive impact on the community and beyond, the University of Hawaiʻi at Mānoa Thompson School of Social Work & Public Health alumnus was awarded the title of Social Work Pioneer® by the National Association of Social Workers Foundation (NASW) in October. Oshiro was one of 25 inductees from around the country, among whom was also legendary civil rights leader, W.E.B. Du Bois.
Oshiro, a visionary who embodied the ethical principles of social work, held many pivotal roles throughout his career of service. He was involved with volunteer work with the American Red Cross to assist families of Korean War veterans, served as the state's deputy director of the Department of Social Services and Housing and provided vital mental health services to victims of national tragedies.
"I am proud of my father's accomplishments," said his daughter, Leah Chang, who is herself involved in social work as public health program manager at the Hawaiʻi Department of Health. "Throughout his career…my father became a mentor to other social workers in the community, elevating them to positions of greater responsibility."
A life of service
Oshiro first became interested in social work when he volunteered as a case aide with the American Red Cross and found the work immensely fulfilling. After serving in the Army in World War II, he attended UH Mānoa to study social work. He completed his BA in 1952 and his masters of social work degree in 1954.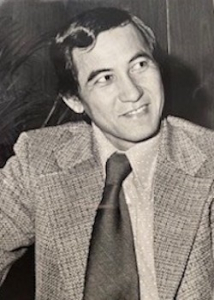 A vital part of Oshiro's career was working at Queen Liliʻuokalani Children's Center. There, he met Myron "Pinky" Thompson, the Thompson School's namesake, who encouraged staff to volunteer their time and expertise to the community. Oshiro responded by volunteering on the Board of Paroles and Pardons and was soon named chairman of the board, an unpaid position that he filled from 1964 to 1971.
The knowledge of high-level government operations that Oshiro gained from his time as chairman resulted in his appointment by Gov. George Ariyoshi as the deputy director of the Department of Social Services and Housing in 1975. In 1978, the governor supported the limited restoration of capital punishment being debated in the Legislature. Oshiro strongly opposed its passing and felt impelled to resign from his appointed position to openly oppose the legislation. His steady voice of opposition to capital punishment impacted the public debate. Today, Hawaiʻi remains one of the 23 states that does not use capital punishment.
After retiring from his position in state government, Oshiro once again devoted his time to volunteer work for the Hawaiʻi Chapter of the American Red Cross. He provided vital mental health services to victims of national tragedies, including the 9/11 World Trade Center attack.
In an interview with author Tom Coffman, Oshiro discussed how social work skills are essential in disaster relief work. He said, "The skills of social work, of empathy, and putting yourself in the other person's shoes are much needed in a disaster, and the work has been tremendously gratifying. It's social work pure and simple."
A lasting legacy
For his impactful work throughout the span of his career, Oshiro has received many awards and honorary titles. Some of these include: The American Red Cross Outstanding Mental Health Services to Disaster Victims Award in 2001, the NASW, Hawaiʻi Chapter Social Worker of the Year in 2002 and the Honpa Hongwanji Living Treasure Certificate of Distinction in 2011.
—By Maria Pou