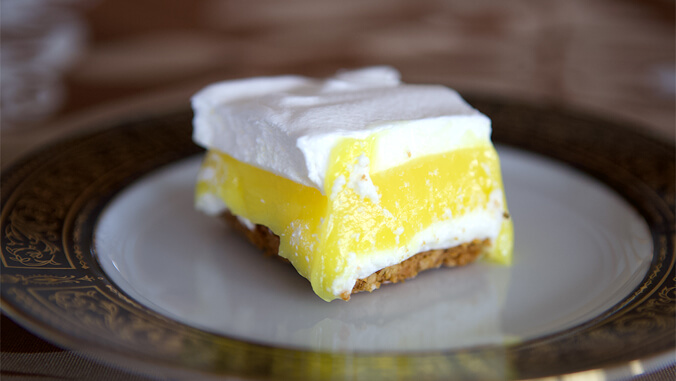 The holiday season is here, and UH News is asking members of the University of Hawaiʻi ʻohana to share their favorite recipes. The hope is these recipes and the short stories that accompany them will give everyone some ideas for eats throughout the holidays.
Check out holiday recipes from previous years
Windward Community College Professor Emerita Jacqueline Maly offers her recipe for lemon squares that she plans to take to the American Association of University Women holiday party.
"I've been making this recipe for 55 years!" said Maly. "Whenever I make it I am reminded of all the fun we had entertaining over the years. My husband, Ted, and I were members of the 'Pali Wednesday Golf Club' at Pali Golf Course. I made these lemon squares every Wednesday for the 19th hole gathering at my house. It's an easy recipe, and light, with just the right balance of tart and sweet."
Maly's recipe appears in Windward CC's 50th Anniversary Cookbook—a compilation of recipes and memories gathered from faculty and staff members. The cover artwork by alumna Shar Tuiʻasoa—known as Punky Aloha—expresses the theme of the 50th anniversary gala fundraiser, E Miha, ʻĀio! (Pull with the crest of the wave to our future). All proceeds from the sold-out cookbook supported the college's $1-million goal to fund scholarships for students at Windward CC. To help the college reach their $1-million goal for scholarships, visit giving.uhfoundation.org/funds/20444403.
Ingredients
1 ½ block butter or margarine
1 ½ cup flour
1 cup chopped walnuts
1 (8 oz.) cream cheese
1 cup powdered sugar
3 boxes instant lemon pudding
4 ½ cups milk
2 8 oz. containers Cool Whip
Instructions
Step 1
Cream margarine and flour together until smooth. Add nuts.
Spread into a 9×13 pan.
Bake at 350 degrees until brown. Cool.
Step 2
Cream powdered sugar and cream cheese together, then fold in an 8 oz. container of Cool Whip.
Layer onto cooled crust.
Step 3
Mix pudding and milk according to package direction and pour over cream cheese layer.
Step 4
Cover with the second container of Cool Whip. Top with chopped nuts (optional).
Share your recipes
If you would like to share your UH-mazing holiday recipe, learn how to send it to UH News.