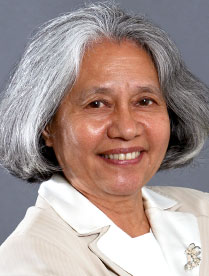 Amefil Agbayani
Dr. Amefil (Amy) Agbayani is Director of Student Equity, Excellence and Diversity (SEED) at the University of Hawai'i at Mānoa. Recognized as an expert and advocate for minorities in education at the state and national level, she has been honored by national and state organizations for her leadership as a strong voice for women, civil rights, immigrant rights, workers rights, Filipinos and equity and diversity in higher education. The 120 year-old Honpa Hongwanji Mission of Hawai'i honored Amy as a "Living Treasures" for her dedication to preserving the spirit, traditions, and values of Hawai'i. She was named one of the 100 most influential Filipino women in the United States and received Hawai'i's Jose Rizal award for social justice.
Through her work with SEED, Amy promotes diversity and supports the academic success of students from underrepresented and under-served groups, which include women, Native Hawaiians and other ethnic groups, students with disabilities, under-prepared students, academically gifted students, adults returning to education, and gay, lesbian and transgender individuals. In l972, Amy was a co-founder and the first director of Operation Manong (now known as the Office of Multicultural Services), an organization providing training to UH Mānoa students on multiculturalism and pluralism, recruitment and retention of ethnic groups underrepresented in higher education and the professions. She has received numerous federal grants and published articles in areas related to diversity in higher education. In 2012 she co-edited with Doris Ching, Asian Americans and Pacific Islanders in Higher Education.
Amy helped start several civil rights community organizations, including the Inter-Agency Council for Immigrant Services and the Hawai'i Friends of Civil Rights. Governor John Waihe'e appointed her as the founding chair of the Hawai'i Civil Rights Commission; Governor Ben Cayetano appointed her to the Hawai'i Judicial Selection Commission and Governor Neil Abercrombie appointed her to the Regents Candidate Advisory Council. Amy has been a leader in many community and professional organizations, including the Hawai'i Friends of Civil Rights, the National Association of Student Affairs Professional Administrators, Patsy T. Mink Political Action Caucus, American Civil Liberties Union, and the National Federation of Filipino American Associations. She served as Chair of the Filipino Community Center, the largest center in the USA.
Amy was born in the Philippines and has lived in Hawai'i since 1964. She has been named a distinguished alumni from the University of the Philippines (BA in political science), East West Center and the University of Hawai'i (MA and her Phd in political science).