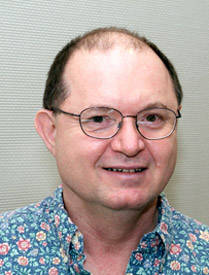 L. Thomas Ramsey
A professor of mathematics at University of Hawai'i at Mānoa since 1975, Tom Ramsey explores the mathematics behind CAT scans in medicine, CDs, DVDs, radar, the Navy's listening for other submarines and geologists' exploration the earth through echos of earthquakes and timed explosions.
In his teaching, he helps students with the mathematics related to finance, pricing derivatives, setting premiums, analyzing risk for insurance companies (actuary science) and some basic ideas of portfolio management.
Ramsey recalls the satisfaction of overcoming language barriers to help a Thai business student understand why bond prices and interest rates move in opposite directions. His current interests involve practical uses for for sporadic wind and solar power, such as desalination of seawater for storage in uphill reservoirs.