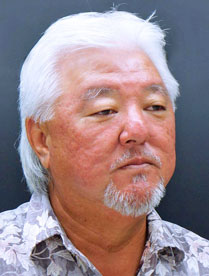 Leonard Oka
Leonard Oka was born and raised in Kīhei, Maui, Hawai'i. He has lived on Maui for most of his 60 years, spending only a few years away from this island to attend the University of Hawaiʻi at Mānoa, where he earned a bachelor's degree in elementary education in 1974. When he returned to Maui in the mid 1970's, there were few teaching positions available, so he turned to the insurance business, where he has worked as an independent agent for the past 36 years.
For more than 35 years, Oka has filled membership and leadership roles through a variety of community, cultural, educational and public service activities.
He takes great pride in being the founder and charter president of Maui's Sons and Daughters of the Nisei Veterans, the first organization of its kind in the nation. He has also dedicated over 25 years to raise funds for and to develop the Nisei Veterans Memorial Center on Maui. Participation in government-related matters included a term on Maui County's Board of Variances and Appeals (chairman) and Maui Health Care Initiative Task Force, which was created by the Hawai'i Legislature.