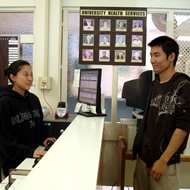 Frequently Asked Questions (FAQ)
Other Insurance Plans
Can you recommend other insurance plans or companies?
Since the UH endorses HMSA, University officials do not "recommend" other plans. The health insurance marketplace is large and constantly changing. It is your responsibility to carefully review benefits and exclusions of specific plans to determine if that plan will suit your needs.
Additionally, the health insurance company you select must certify on the F-1 Student Acknowledgement & Insurance Provider Certification Form (International Students) that your plan meets the University's minimum coverage standards.
IMPORTANT: If your plan does not meet the minimum levels of coverage required or your insurance company will not complete and sign the F-1 Student Acknowledgement & Insurance Provider Certification Form, then your plan will not be accepted for medical clearance.
What about other insurance plans that appear to be comparable and more affordable?
Some plans may appear comparable, but in fact they do not meet UH's minimum requirements or state and federal mandates and they have limitations in their benefits (example: only emergency coverage for mental health or exclusions for pre-existing conditions).
Some of these plans seem less expensive because they do not cover many of the expenses you will incur if you need medical care. Examples of these limitations are: daily hospital limits of $500- $1000, maximum ambulance payments of $150, deductibles for each visit/occurrence, and either exclusions or pre-existing condition clauses that are longer than 6 months. These plans do not provide adequate coverage to protect you while you are attending UH.