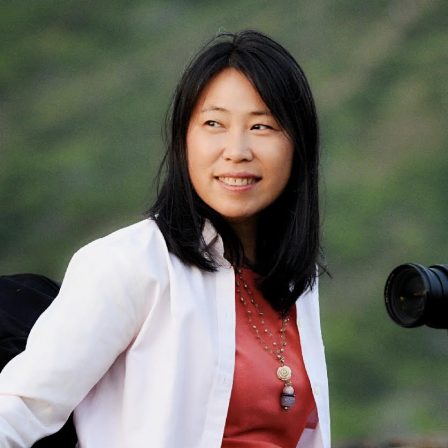 Moore Hall 585
808.956.9537
zhengd
hawaii.edu
http://manoa-hawaii.academia.edu/DongpingZheng
https://zhengd.wordpress.com/
Dongping Zheng is an associate professor in the Department of Second Language Studies at the University of Hawai'i at Mānoa. Her research, teaching and service can be holistically described as interdisciplinary and multifaceted in cutting edge methodologies and technologies. Shs been adamantly embracing the Distributed Language perspectives in her applied work and an active board member of The International Society for the Study of Interactivity, Language, and Cognition (ISSILC). Nurtured by ISSILC international community and SLS department, UH, and Hawaii diverse cultures at large, she envisions her contribution to education, particularly language education, as helping broaden global citizens to become steeped in the mutual cultivation of the East and the West perspectives. Her projects can be characterized by a good marriage of scientific evidence-based research and humanity enhancement that is community-centered, diversity-minded, and ecology-balanced. She studies how to design distributed language learning environments to foster a (trans)languaging skilled linguistic action that has a positive effect in environmental awareness, caring, creativity and bilingual development. Relationally, her service to the local and international communities is informed by her philosophy of intentional cultivation of linguistic and cultural diversity of all ages. She has developed and designed multiple technological enhanced curricula which resulted from design-based research projects. Her work has gained international recognition as evidenced in a dozen seminal journal articles, leading the field of language learning and technology in theory, practice and methodological advancement. She has also gained an international reputation by providing services, giving numerous invited talks internationally and serving in international academic societies and organizations.
For example, Guardians of the Mo'o Mobile App was created for international students' behavior patterning and participating on UH campus, and East-West Center campus. Her current project is in collaboration with VISLAB at the Chinese Academy of Forestry, creating a wild panda reserve virtual reality. Taking into consideration the harmonious unity of nature and humanity leveraging VR and AI features, the virtual reserve may play a key role, along with artifacts in the larger ecosystem, to cultivate environmental awareness and new languaging habits.  She strives for cultivating mindfulness for academic and community life. She has been the organizer and teacher of Morning Tai Qi exercise group by Kennedy Theater since 2015. She has served more than 200 students and community members in the Tai Qi Group and beyond in her spare time.
Areas of Expertise:
Ecological Psychology and Ecolinguistics
Distributed Language and Cognition
Multimodal and Dialogical Analysis
Language and Learning Technologies
Design and Evaluation of Virtual Worlds and Open-ended Learning Environments
Selected Publications:
Zheng, D., & Tian, J. (田剪秋. (2020). 生态、对话和分布式(EDD)视域、虚拟环境与第二语言学习的互构Co-constituting second language learning from EDD perspectives and virtual environments. 中国外语 Foreign Languages in China, 17(3), 36–44.
Zheng, D., Hu, Y., & Banov, I. (2019). A Multiscalar Coordination of Languaging: Harmonizing styles across classroom and virtual-environment ecosystems. Chinese Semiotic Studies, (15)4, 571-587. https://doi.org/10.1515/css-2019-0030
Liu, X., Zheng, D., & Chen, Y. (2019). Latent classes of smartphone dictionary users among Chinese EFL learners: A mixed-method inquiry into motivation for mobile assisted language learning. International Journal of Lexicography, 32(1), 68-91. DOI: 10.1093/ijl/ecy019
Zheng, D., Liu, Y., Lambert, A., Lu, A., Tomei, D., & Holden, D. (2018). An ecological community becoming: Language learning as first-order experiencing with place and mobile technologies. Linguistics and Education. DOI: 10.1016/j.linged.2017.10.004
Zheng, D., & Newgarden, K. (2017). Ecological, Dialogical and Distributed Language Approaches to Online Games and Virtual Environments. In S. Thorne and S. May (Eds.), Encyclopedia of Language and Education, 3rd Edition, Vol. 9: Language, Education and Technology, 345-359. Springer.
Lai, C., & Zheng, D. (2017). Self-directed use of mobile devices for language learning beyond the classroom. ReCALL, 1-20. doi:10.1017/S0958344017000258
Zheng, D., Schmidt, M., Hu, Y., Liu, M., & Hsu, J. (2017). Eco-dialogical learning and
 translanguaging in open-ended 3D virtual learning environments: Where place, time, and objects matter. Australasian Journal of Educational Technology, 33(5), 107-122. https://doi.org/10.14742/ajet.2909
Zheng, D., Dai, Y., & Liu, Y. (2017). Place, Identity and Becomings with Mobile Technologies: Feminist and Chinese Philosophies. A special issue on Place by Springer Journal, International Communication of Chinese Culture, 4(3), 319-337.
Newgarden, K., & Zheng, D. (2016). Recurrent languaging activities in World of Warcraft: Skilled linguistic action meets the Common European Framework of Reference. ReCALL, 28(3), 274-304.