CLEAR Guide to Hawaiʻi Labor History

by William J. Puette, Ph.D.

$3.00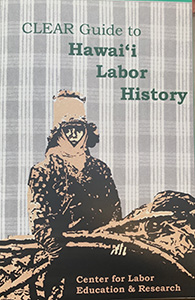 A referrence pamphlet to the rich Labor History of Hawaiʻi with a detailed timeline and short essays. Designed to accompany the Center's Labor History instructional program, the booklet also features short bios of Fred Makino, Pablo Manlapit, Harry Kamoku, John Reinecke, Jack Hall, Harriet Bouslog, and Art Rutledge. [rev. 2018, 42 pages, illustrated].
downloadable version in PDF
Return to
Page