'Nam
Through your father's hands
around the wood bat, we knew
he was there. He showed us
how to do it: Keep your eyes
open. Grab it tight. Be braver than the ball.
The pop of oak against leather,
a club against bone.
Between swings came a sudden
pause, his eyes hidden
behind mirrored glasses, locked on the dot
in the sky. His flinch
as the bat made
contact, after a branch snapped,
an engine shot out—the real weight
unknown, buried somewhere in the canvas bag
we dragged across the field
after practice, sound of helmets
and balls rolling in the trunk,
his rearview glance—to know
it was us.
Ghost at Fort Sill, 1942
They found me
near the fence.
Snow passing
through a hole
in my head.
*
I am the name
buried here.
If you ask
why I did it,
I did it for her.
*
I raised
my eyes,
the mountain's jagged blade
cutting a line
through the sky.
*
They all
asked why
I ran,
climbed
the fence.
*
Her blue kimono
falling. The rumor travels
across miles. The guard in
my wife's barrack. I am
running towards her.
*
White crystals
in my hair,
I was
lifted up.
Covered.
*
I can't reach her:
his rifle lifting
her hem,
his hands push against
her sea of silk.
*
I am the one
buried here.
Birds fly
over. Blue
passes through.
---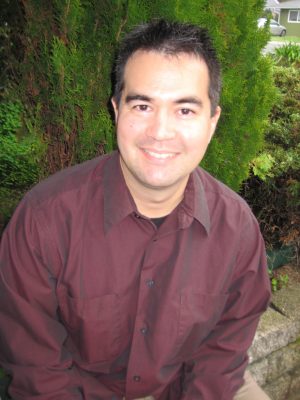 Brian Komei Dempster is the recipient of grants from the Arts Foundation of Michigan, the Center for Cultural Innovation, and the San Francisco Arts Commission. His debut collection of poems, Topaz, was published by Four Way Books in 2013. His poems have appeared in such journals as the Massachusetts Review, New England Review, North American Review, and Ploughshares, as well as been anthologized in Language for a New Century: Contemporary Poetry from the Middle East, Asia, & Beyond (W.W. Norton, 2008) and Asian American Poetry: The Next Generation (University of Illinois, 2004). "'Nam" first appeared, in an earlier version, in Post Road and is from his second manuscript, Seize, which will be published by Four Way Books in fall 2020; "Ghost at Fort Sill, 1942" is from his third in-progress manuscript.