---
Artworks featuring Artist Tools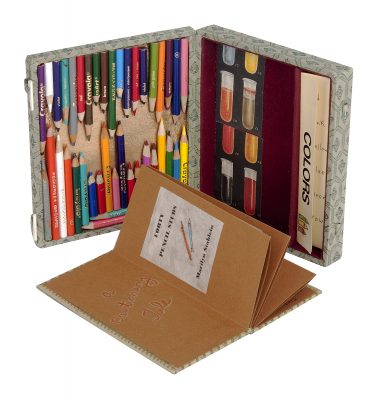 1.  Forty Pencil Stubs: A Cautionary Tale. Box assemblage, accordion book, hand drawn color chart, 7" x 6" opens to 13 inches, unique, 2013.
This sculptural book object, made from a repurposed cloth-covered box with clasp closures, is both a foundation for an assemblage of forty used pencil stubs, as well as a container for an accordion book and a color chart. The book relates a story about pencils purchased at a yard sale in New Mexico.
The story in the accordion book:
At a teacher's garage sale last week I bought a box of colored pencils in many sizes. Some were re-used so often they were barely an inch long.
Imagine how many small hands held those tiny bits of pencils. So short yet capable of coloring a picture, expressing a vision.
The thrifty teacher saved colors like mulberry, maroon, mahogany, and magenta—the names were stamped in gold letters on the pencils.
"Don't you want to save the pencils for art classes," I asked?
"I got laid off," the teacher replied. "No sense keeping worn-down colored pencil stubs for an art class that doesn't exist."
---
2. Sixty Pencil Stubs. Repurposed wood box, brass hinges, pencils, game pieces, antique sunglasses, buttons, 10" x 6.5" opens to 11" x 1.5", unique,  2013.
A recycled wooden box opens like a book to reveal an assemblage of sixty pencil stubs ranging from 1.5 inches to 8 inches long. Other items include game pieces, a pair of antique glasses, and buttons arranged as a sculptural object.
---
3. Artist Tool Kit. 6" x 6" x 1 1/2″ 2016.
Artist Tool Kit is a curated book art object that gathers and displays basic tools and artifacts used to create and document art. A mini portable installation of used colored pencils, brushes, paint, pen and calligraphy nibs, tweezers, mirror, twine, X-Acto blades, scissors, thread spools, pins, needles, water bowl, and measuring tape evokes and celebrates the creative artistic spirit. Inside: a handmade specimen book, an Inventory list, three maps (one rolled, two folded), and a hand-colored compass map.
This unique sculptural book art object, "Artist Tool Kit," is a mini box assemblage of important artist supplies and artifacts that is a compact and useful visual resource for artists to think about ways to create art during travel and record journeys.
When I left home at nineteen and traveled to Europe one summer, I didn't have an itinerary. Instead, travel became a way of life on the road for seven years. I wandered through England, France, Spain, Morocco, and Egypt and then hitchiked across the middle East. In Nepal and the Indian Himalayas, I studied Tibetan calligraphy and art. A number of my books are travelogs.
This work is an assemblage, a meditation, a time capsule, a Cabinet of Curiosity, and a visual journal that not only evokes the spirit of travel and exploration to many different places but also celebrates the artist's role in living, recording, and sharing the creative life.
The Specimen book, compass-protractor, and "Artist Tool Kit" inventory list can be handled and read. All the other materials and artifacts are fixed and cannot be moved.
---
4. Vintage Tool Drawer. Small tools in a stationary drawer: two metal calipers, five pairs of scissors, two small pocket knives, drafting pens, watch band, metal ruler, folding wood ruler, two small brushes with wire handles, antique fountain pen, antique metal Japanese buttons with ivory fan.
This piece previously appeared in UPPERCASE MAGAZINE in Canada, 2016.
---
Writers' tools, artists' tools, discarded and recycled cultural artifacts, found objects, shamanic tools, ritual objects, green and ecological specimens from nature are all found in Marilyn Stablein's artist books. She uses natural artifacts, hand-crafted creations as well as domestic tools and industrial cast-offs to transform and celebrate minutiae, everyday objects, and ephemera, especially personal archival material. Altered books and book art objects become museums of artifacts and personal materials. Many of the books have narrative elements that explore personal history.
The three box assemblages appear in Bind, Alter, Fold: Artist Books by Marilyn Stablein (Book Arts Editions, 2015).
---