---
The Tunnel
Our house is built on a slope, not too far from the fault line. We have two stories and another room under the house where we keep the garden tools, next to the lower level garden. Behind the garden storage room, there's a kind of tunnel built of concrete. If an earthquake comes, our house is less likely to slide down the slope with all this concrete holding it in its place. The tunnel is low, a bit dark, but quite wide. It could almost be a room. We call it Anna Frank's room. We keep some stuff there, like dog food and mice traps. Sometimes, when someone is looking for a thing we say: I think it's down in Anna Frank's room.
Of course, the original Anna Frank's room was actually an attic. We visited there one cold winter's day on a nine hour layover we had in Amsterdam. The baby was sick, so he slept in the car seat that was also a stroller—a weird invention for traveling families. I remember the car seat on wheels bouncing around on the cobblestones. Our room underground is Anna Frank's by association—it is a room where one could hide refugees. Jews, Mexicans. It is comforting to have. We never really go in there, I mean, not all the way. In fact, I'm not even sure I ever saw the back wall of the room. Maybe there isn't one and it just goes on forever.
The Israelis named their 2014 military operation "Operation Stern Cliff." However, following the events of August first, its English name was changed to "Operation Protective Edge." The military PR thought "Stern Cliff" may imply to the foreign press that the bombing of buildings and shooting at vehicles, mosques and pedestrians in Rafah that day was planned.
In the footage available on YouTube, one can hear a commander named Gino yelling into a walkie-talkie: "Stop the shooting! Stop the shooting! You are shooting like retarded people! You'll end up killing each other! I already have casualties stupid! Wait one minute…"
More than 200 Palestinian civilians were wounded that morning in Rafah. Why were the Israeli forces shooting like retarded people? Because two of their commanders had just been killed and another had been kidnapped.
In the Israeli army, commanders are not feared. They are adored, almost worshiped. They set an example for their troops by standing in the line of fire. They sometimes are killed, leaving their soldiers shooting like retarded people. (Yes, that was the word he used, a slur, an insult. War is an insult to our humanity.)
Tarek started moving as soon as he felt the weight on his right shoulder. Moving, not thinking, down the tunnel. The wounded officer's breath was heavy on his cheek, his arm dangling limply. Tarek held it close to his chest with his right arm, wrapping his left around the legs, pulling the man up his back. He was heavy. He must have been unconscious. Walk, don't think. The tunnel was easy to maneuver, wide and dimly lit. The body he was carrying was long and young. He could see the man's face: eyes closed, mouth open. He searched for a picture to occupy his mind. Something that would keep him from feeling the terror of participating in the kidnapping of another human. The unknown outcome of this operation. A feeling he recognized from childhood, where was it from? Oh yes, Disney. The moment when Rufus the mouse in Aristocats cannot, for the life of him, remember the name of the alley cat who sent him running to his friends. Duchess and kittens are in trouble! An alley cat picks him up by the tail. I was sent by a cat! He said to mention his name…Okay, says the alley cat, give us some names. Poor Rufus can't remember the name. The cats show him their claws. He panics. O'Brady? O…O…and Tarek remembers the dread he felt in front of that old TV screen down on the first floor where his grandparents lived.
The body he was holding produced a deep sigh and Tarek wondered if the man was dying. He felt around the back with his left hand for the wetness of blood on the mostly naked body but couldn't really make out anything. The officer was stripped of his uniform, weapons and armor on the landing under the first ladder. Tarek himself was waiting under the second ladder. He started moving as soon as he felt the weight on his shoulder. The only word he heard was Sergeant. They managed to take a higher ranking Israeli this time. The men who stripped the officer went back up and never returned. Tarek assumed they were killed in the gunfire that followed.
He could feel his own sweat pouring down his shirt and sweatpants. Oh the relief Tarek felt every time Rufus exclaimed: Oh, why did I ever listen to that O'Malley! He will feel it very soon, as soon as he deposits his load, hopefully alive, at the first intersection of this tunnel. He feels the man's head for a bullet hole with his right hand. No hole. Instead his fingers encounter a hairpin attached to a small round knitted cap. A religious man. Like himself. Walk, don't think. His throat is throbbing. A man will be waiting for him in the intersection. He will give him water, he will take the soldier onto his back and continue to the next meeting point. Tarek will take the opposite tunnel, the one leading back to the mosque. He'll be back home in time for dinner. He'll tell his parents he was at the gym. No, he did not hear the gunfire. His little brother Ali loved Aladdin. Ali's twin sister Marwa preferred Mulan. The bright light over Ali's hospital bed that one time, the only time Tarek was allowed to visit before he died. His face no longer belonged to him, to them. It was gray, his eyes were huge, staring up but into the underworld. Too much shrapnel, nothing could be done. He watched Disney movies all that night, alone, as mourners gathered outside. Ali was killed while walking down the street. He was eleven years old. Marwa had been working as a medic. She knew the tunnel system by heart, traveling to Egypt and back to bring supplies in. Sometimes transporting patients across the border to be treated there. Their parents were worried sick. You stay out of politics. I don't care if you watch movies all day, his father would say, just don't get involved in anything, we can't afford to lose another son. Tarek is lost in memories. Then shaken out of them by the body he is carrying. The body convulsing, almost falling from his shoulder. He is having some kind of seizure. Tarek uses all his strength and both his arms to keep him up but he slides right into his arms. He is forced to stop walking, his heart is pounding. He tries to calm himself. What if the Israeli dies now. What prayer will he say? A weird thought, but there it is. The tunnel is narrow and low. Tarek leans on the concrete wall, trying to settle his breath. The convulsions stop. The officer's breathing is shallow. He might have some internal bleeding, or nerve damage. The man in the intersection will come my way if I don't show up by a certain time, he knows this. Now Tarek is holding the officer in his arms in the dimly lit tunnel. A strange kind of pieta. His face is pale and young. Short dark hair, wide lips, narrow nose. A gentle face. Tarek knows that he will receive medical attention once they reach a safe place. Maybe Marwa will care for him. Tarek feels tears streaming down his cheeks. Ali, he says, my brother.
---
---
 I found them sitting at the edge of the creek in the early morning, just before dawn. The dog was barking like crazy, running from our garden through the gap in the fence into Max's property, what used to be his garden and was now a jungle of ivy, blackberry vines and unkempt fruit trees. I never liked following the dog there, well, because the vines are so very thorny and the ground uneven. You can never know on what you are stepping. This time there was no choice, the poor little guy was losing his mind. I walked across the garden, Max's dilapidated house looming dark and covered in ivy, blocking the first rays of sun on the east. To the west, the fog was still thick on the bay like a winter duvet, all fluffy over the water.
Tarek was very still. Seated on the concrete embankment his feet dipping in shallow waters, the August remains of the creek running from the hill under the street and into a tiny open concrete tunnel. The creek separated Max's property from Mr Chin's elegant garden of fruit trees. It flowed into a pipe carrying rainwater all the way down to the San Francisco Bay. Sergeant H was in Tarek's arms, mostly naked.
The dog growled. I love my new dog with only one head, the three-headed one always creeped me out. Tarek seemed to be looking at Max's old persimmon tree, now almost engulfed in ivy, I found myself wondering for a minute if he might be hungry, before remembering that he was probably mostly dead.
Me: Oh Tarek, killing Sergeant H will not bring back your brother
Tarek: I did not kill him and did not wish him dead
Me: Oh Sergeant H, killing Tarek will not bring back Anna Frank and the 6 million Jews of Europe
Sergeant H: I did not kill Tarek, I killed no one
Tarek and Sergeant H in unison: Why are we in the river why is the dog not letting us in
Me and my dog: You are being blown up
Sergeant H: There is no present continuous in Hebrew, I can't continue to be blown up
Tarek: There is only the present continuous in Palestine, we are all being blown up continuously
I love looking at the bay in the mornings when the fog still lies thick on the water. Sometimes a ray of light coming from behind the house in the east breaks through the fog, shining a spotlight on one boat, one building, one tree, one section of the Golden Gate bridge. Now this tree is the star of the morning show. All eyes on this tree! All eyes on this boat! All eyes on Alcatraz Island shining in this ray of light! Slowly the fog lifts, sun rays flooding the waters, the buildings, the bridges.
The tiny atoms of Sergeant H and Tarek filled with light as we brushed past the blackberry vines and thick ivy then crossed the fence into my garden. I opened the door to the tool room. I led them in, floating on the morning fog. Taking their transparent hands in mine, I led them inside the tunnel. Gently, Tarek moved Sergeant H onto his back, stretching upward to tighten his grip so that the youngster will not fall off his shoulder. I watched them proceed past the dog food, past the mice traps into the tunnel. I closed the door behind me as I stepped out into the garden clutching my coin in my palm.
---
More about this incident and the Haniba'al directive: https://www.newyorker.com/news/news-desk/hadar-goldin-hannibal-directive
---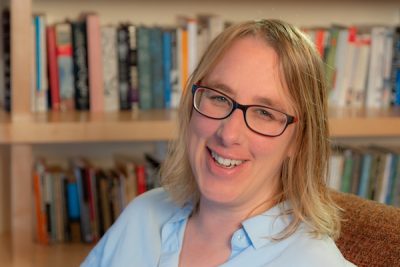 Orit Weksler was born and raised in a secular Jewish family in West Jerusalem. Her poetry and short stories were published in Hebrew in Helicon and Mita'am magazines. Upon moving to the SF Bay Area with her family in 2002, Orit published personal essays, poetry and fiction translations online, in journals and in a women's anthology. Orit works as a psychotherapist in private practice in Berkeley. She is interested in psychoanalytic thinking and theory. She studying theater improvisation and playback theater and hopes to spend more time writing and acting in the future.
---