The Reason I Jump: A Book Review
My partner is one of five sons. He and two of his brothers have seven children among them, three of whom have either autism or Asperger syndrome. One of these children is R, an intelligent young woman I have become fond of. She speaks little and seems most interested in the iPad her father bought her, spending hours playing games and learning about animals she likes. Some months ago, her father got out his cell phone and showed us pictures of a zoo they had visited on a mainland trip. At his prompting, she said the name of the animal on the display, then repeated it for us. I was struck by the fact that in these utterances her voice did not change tone or inflection. It stayed even and true to its purpose: to instruct us.
My relationship with my partner's family is the main reason I decided to read the book that Naoki Higashida wrote about his autism when he was thirteen years old. Many years ago, I had read "An Anthropologist on Mars," Oliver Sacks's article on Temple Grandin, when it appeared in The New Yorker. I was moved by this account of Grandin's autism, and because of my closeness to animals and my social isolation as a child, I felt a connection to her. I didn't expect to have a similar response when I read The Reason I Jump: The Inner Voice of a Thirteen-Year-Old Boy with Autism. In the case of Higashida, the bases of the connection I felt were a love of nature and a tendency to frame experience in philosophical terms.
Published in Japanese by Escor Publishers Ltd. in 2007, Higashida's book was translated into English some years later by KA Yoshida and her husband, David Mitchell, who have an autistic son. Yoshida had ordered it for herself and started sharing it with her son's caregivers; eventually, she and Mitchell collaborated on a translation. Published by Random House in 2013, it became a bestseller in the United States.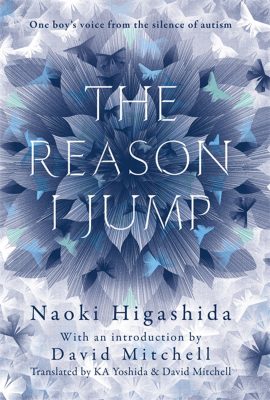 The startling and beautiful illustrations, which appear on the cover and throughout the book, are by artists Kai and Sunny. In their note at the back, they say,
The Reason I Jump connected with us on a number of levels, but most overwhelmingly Naoki's relationship with nature was the link for the imagery. Naoki returns to nature again and again in the book. He can see beauty and meaning within nature and abstract this information and relate it back to himself, and always turns to nature for comfort and refers to it as his friend. We use nature in our work to connect with people, to provoke thoughts and memories. We like the idea of showing something you can't actually see—and asking bigger questions. We use nature-based images as a metaphor for other feelings. For us, this was how we could combine our imagery with Naoki and his powerful story. 
An excellent piece on the book was published at Biographile, and I won't attempt to do what Rose Nagle Yndigoyen did so well: distilling Higashida's thoughts into insights and providing summaries of the text.
I would like to say, though, that reading The Reason I Jump on the Nook—or, I imagine, any other eReader—cannot be as satisfying as holding the real book in one's hands. Being able to fully experience Higashida's writing and Kai and Sunny's art was something I longed for as I read. I wanted to touch the book, feel its heft and mass in my hands, turn its pages, look at how it had been made, feel the paper, contemplate and compare the illustrations, study the design—participate in some way in the dozens of decisions that went into the book's publication. When we experience books in these ways, we learn much about their value—and, more important, we value them more. That said, I am glad I bought the Nook and read The Reason I Jump on it: I understood better the multiple kinds of deprivation Higashida described and was able to empathize more fully.
Postscript
The website for Wretches and Jabbers, a film about two men with autism, has a page on Higashida. In a short essay written a few years after his book came out in Japan, he says,
an example of how I experience the world may be different from how most people experience the world is my experience with rain. My first reaction to rain is to be surprised at its sounds. Though everyone seems to know it rain instantly from hearing its sounds, I first become anxious, unable to tell what sound it is and where it comes from until someone tells me it's rain. That is why I stare at rain so I can connect the sounds to the rain. But then I become so absorbed in watching raindrops that I forget where I am now. The feeling of continuous raindrops coming down from the sky and falling through my body on the ground causes me to forget myself. 
Note that he uses the preposition through and not on in the last sentence. This is one miracle of Naoki Higashida's existence, and we are lucky to share it with him.
---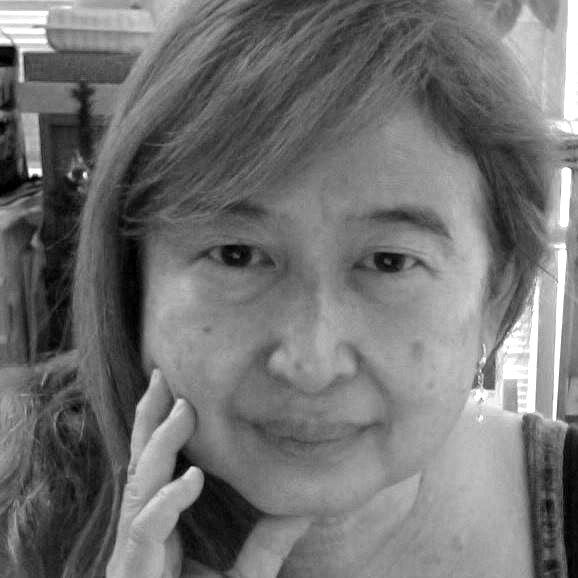 Pat Matsueda is the founder of Vice-Versa and the managing editor of Mānoa: A Pacific Journal of International Writing. Her review of The Reason I Jump originally appeared in Thumbnail Reviews in 2014.
Rachel King recently interviewed Matsueda for the newsletter A Writer in Publishing. King is a fellow writer, editor, and publishing professional who appeared in the third edition of Ms. Aligned: Women Writing About Men, an anthology Matsueda helped produce.