Fall 2020
The Office of the Vice President for Academic Planning and Policy (OVPAPP) provides executive leadership in setting forth the systemwide academic vision and goals for the University of

Hawaiʻi

in collaboration with internal and external stakeholders.
Be a Hero, Be a Teacher Campaign Success

In 2017, the University of Hawaiʻi and Hawaiʻi Department of Education initiated a 2-year, multi-media campaign designed to inspire high school and college students, working professionals and adults returning to the workforce to consider a career in education. The "Be a Hero, Be a Teacher" initiative was created to address the growing teacher shortage within the Hawaiʻi DOE which had grown to 531 vacancies in 2017.
This campaign was developed by a faculty discipline group in education led by UH Mānoa College of Education's beloved late Ernest "Niki" Libarios, Jr., who served as Director of the Office of Student Academic Services. Featuring public service announcements and a slam poetry video written and performed by UH Hilo alumni and Kamehameha Schools Dean of Studies Clint Anderson, the campaign highlighted the benefits and rewards of a career in education, noting the high demand for teachers in Hawaiʻi and the rising salaries.
A Be a Hero. Be a Teacher. website was created for students to explore the many programs, both in person and online, that are offered at UH Mānoa, UH Hilo, UH West O'ahu and Leeward Community College which lead to bachelor's and master's degrees in general and special education for early childhood through secondary level education. Additionally, at UH Hilo, teachers can earn a graduate certificate in the Kahuawaiola Hawaiian and Indigenous Teacher Education Program designed to prepare "teachers of the highest quality who are grounded in Hawaiian language and culture…"
The success of the "Be a Hero" campaign is reflected in data compiled by the UH Institutional Research and Planning Office which indicates a noticeable increase in the number of bachelor's and master's degrees in education conferred within the UH System in academic year 2020 as compared to the number of degrees conferred at the onset of this program in academic year 2018. We are hopeful this upward trend will continue.
UH also partnered with Hawaii News Now to promote teaching as a profession. From September 2018 through July 2020, through a combination of television ads, email and social media marketing, the campaign featured teachers, administrators, students, and parents sharing their experiences and perspectives as to the critical role of great teachers in the well-being of a community, and the benefits and supports that are available to those who choose the path of becoming a teacher.
---
He Ukana Aloha Kā Kīlauea
The University's Hawaiʻi Papa o Ke Ao (HPOKA) committee is hosting a special year-long webinar series featuring the music, dance and storytelling of the islands from our ten UH campuses.  The series started in September 2020 and continues twice a month through June 2021.  All sessions are from 12:00 noon to 1:00 pm.
Oct. 14 & 28, 2020 – Hawaiʻi CC
Nov. 4 & 5, 2020 – UH Mānoa
Dec. 9 & 23, 2020 – UH West O'ahu
Jan. 13 & 27, 2021 – Kaua'i CC
Feb. 10 & 24, 2021 – UH Hilo
Mar. 10 & 24, 2021 – Honolulu CC
Apr. 14 & 28 – Windward CC
May 12 & 26, 2021 – Kapi'olani CC
June 9 & 23 – Leeward CC
The webinar link is:
https://hawaii.zoom.us/j/91499916950
Password:  ukana
Visit the Hawai'i Papa O Ke Ao website or the UH System calendar for more information on each month's exciting and informative webinars.
---
Despite COVID, Enrollment across UH System stays strong
OVAPP coordinated the annual enrollment presentation to the BOR at their November 2020 meeting.  The report discussed the enrollment situation in Fall 2020 as compared to Fall 2019 and campus leadership presented strategies used to bolster enrollment as well as plans for next fall.  New to this report was detailed enrollment statistics beyond the normal headcount numbers, including classified enrollment (degree seeking students), student semester hours (credits earned multiplied by student headcount), distance learning classes, and non-credit registrations.
Highlights for the Fall 2020 enrollment situation include:
Despite the challenges presented by COVID-19, headcount enrollments fell only slightly, by 0.8% and classified enrollment fell by 1.2%. 

The difference was largely due to a small increase in unclassified students. Students taking classes at campuses other than their home campus increased due to more classes being available on-line which more than made up for the 12% drop in Early Admit students (high school students taking college classes).

Student semester hours declined, generally following headcount changes, indicating the students were taking similar number of classes in Fall 2019 as Fall 2020.

A slight increase in resident first-time students could not make up for the 17% decline in non-resident first-time students.

Undergraduate transfer students increased, especially from non-

Hawaiʻi

based institutions.

Continuing students saw a small decline at the undergraduate level and a larger decline at the graduate level.

The number of on-line classes increased from 17% of all classes systemwide in Fall 2019 to 80% in Fall 2020.

Non-credit registrations also increased systemwide due to new classes on Contract Tracing.

Graduation rates continue to improve overall and retention rates fell slightly in 2020 showing successful support of student success in a difficult Spring 2020.
In addition to delaying the application deadline to allow students who decided to come to UH later than usual, campuses pursued other actions to improve applications and enrollment including increased communications on-line and systemwide emergency aid to students. UHM and UHH continued to see strong increases in applications with their use of EAB, an enrollment consulting firm. UHWO strengthened their outreach to neighboring high schools and the UH Community College system. Plans for next fall include the launch of a UH Fast Pass program which will send letters to eligible high school juniors inviting them to apply to the UH four year institutions, and the creation of more and improved  pathways between two year and four year campuses as well as between continuing education (non-credit) and degree programs.
---
"Next Steps to Your Future" Supports Class of 2020 in their Transition to College and Career
Due to COVID-19, the 2020 graduating class faced a number of challenges, including the early closure of schools and the upending of support services. To provide these students with support, Hawaiʻi P-20, the University of Hawaiʻi Community Colleges and our community partners quickly came together to create an opt-in intervention program called Next Steps to Your Future designed to provide graduates with guidance, resources, and support in their transition from high school to college or career. The program teamed educators, counselors, and advisors with over 1,700 participating graduates over eight weeks during the summer to help these students navigate the important period that bridges high school to the future. Over 60,000 text messages were exchanged between Class of 2020 graduates and their advisors and counselors during the summer as part of the Next Steps to Your Future program.
This program consisted of the following three components:  1) Twenty-five counselors and advisors connected with over 1,700 high school seniors over the summer providing guidance and support through one-on-one counseling and various resources to help students determine and move forward toward their post high school endeavors.   2) The UH Community Colleges offered a "Summer Onramp" program consisting of 121 online classes for high school graduates to explore career options and learn about the education and training required to achieve their goals.  3) A $2 million "Stronger Together" scholarship fund was created by the Hawaiʻi Community Foundation and First Hawaiian Bank for qualified participants in the "Next Steps to Your Future" program. 
As a result of this highly successful campaign, 75% of the participants in the UHCC Summer Onramp program were registered for classes at a UH campus in Fall 2020.  Furthermore, 370 of these students were awarded scholarships averaging $6,200 to help defray their college expenses.
"We know that our graduating seniors have persevered in the face of adversity and that many of their plans were disrupted because of the shutdown of schools," said Stephen Schatz, Executive Director, Hawaiʻi P-20. "Our Next Steps initiative was to make sure students had options after they graduated and received the necessary advising to help make their college dreams a reality and transition them to their futures."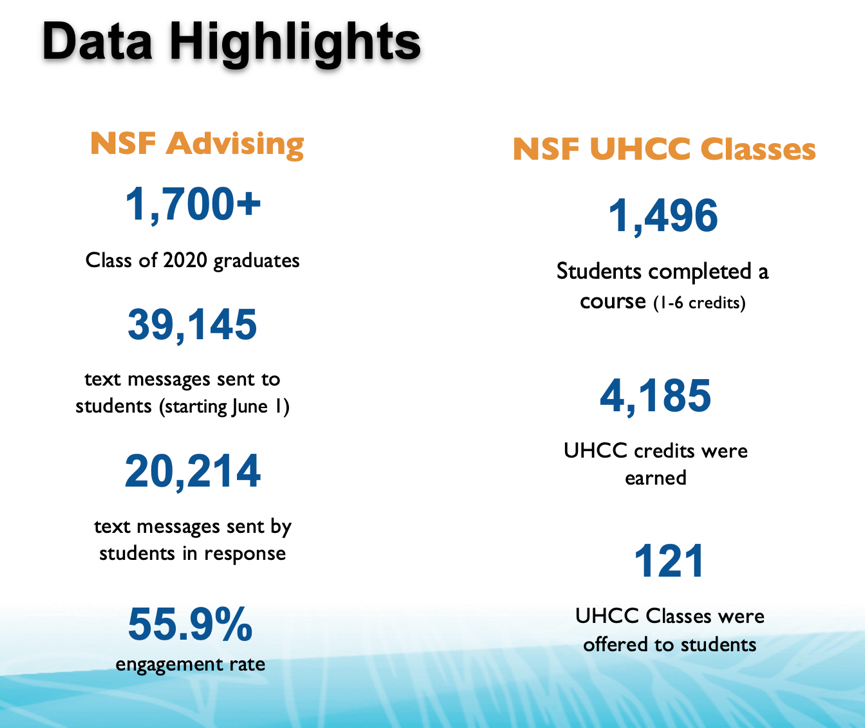 ---
Policy Revision to Facilitate Student Success
In July 2020, revisions were made to UH Executive Policies 5.201 and 5.209.  EP 5.201 addresses program proposals and the process of developing a program and bringing it forward for approval by the Board of Regents.  EP 5.209 deals with UH System's articulation and transfer policy.  
UH EP 5.201 "Approval of New Academic Programs and Review of Provisional Academic Programs" was revised to include the following changes:
Consolidation and streamlining of the Authorization to Plan process to expedite review and approvals.  

Clarification that resources for provisional programs should be "sought in accordance with standard budgetary policies and procedures".  

Modification of the review cycle for provisional programs to 200% for certificates (2 years) and associate degrees (4 years).

Clarification that requests for a one-year extension of program provisional status may be requested for President (or designee) approval and that additional extensions may also be requested.  

Appendices updated–criteria for proposals outlined for each stage of the review process.  
UH EP 5.209 "University of Hawaiʻi System Student Transfer and Inter-Campus Articulation" policy was updated to ensure seamless transfer and articulation for students transferring from one campus to another in light of system-wide use of STAR which enables students to map out their academic journey between UH campuses.  Important changes included:
Added new definitions for "articulation, transfer, catalog year, pinning".

Added language supporting student success when changes are made to academic programs during students' programs of study across the campuses.

Added statement that "STAR is the definitive source by which campuses will determine if classified, degree-seeking undergraduate students have met the degree requirements for graduation."

Added section on automatic admission for students from UHCCs completing associate degree programs with articulation agreements or students meeting specified minimum GPA and residency requirements. 

Updated transfer equivalency guidelines—equivalencies shall be determined at point of entry into UH System and shall be honored by other campuses.  

Added section on pathways outlining process for students to declare 4-year major prior to transfer to a 4-year campus.  

Revised section on general education core requirements to allow for seamless transfer of general education core for foundations and diversification.

Added reverse credit transfer policy allowing students from a community college to earn their associate degree after transferring to a 4-year campus and working toward their bachelor's degree.  

Section on articulation agreements revised to include requirement that changes to curricula must be communicated to the departments through the Vice Chancellor for Academic Affairs.  

Minor revisions made to Lead Responsibilities section regarding the composition and responsibilities of the Academic Advising and Transfer Network and University Council on Articulation. 
---
Promising Credentials in
Hawaiʻi
In March 2020, the Hawaiʻi P-20 program, Chamber of Commerce Hawaiʻi, Kamehameha Schools and the Harold K.L. Castle Foundation, partnered to initiate the Promising Credentials project to identify credentials associated with occupations currently in demand in Hawaiʻi.  As stated by Stephen Schatz, Executive Director of Hawaiʻi P-20, "We have to ensure students earn credentials that lead to a career and that enable them to live and thrive right here at home."
Consultation with 126 local businesses through surveys and focus groups yielded valuable labor market data and employer insights which resulted in a comprehensive report, "Promising Credentials in Hawaiʻi".  This report identifies 137 high-value certificates and credentials associated with 274 occupations in Hawaiʻi which pay living-wage salaries.
In conjunction with the report, the Hawaiʻi Career Pathways website was developed providing valuable online resources for students, parents, educators, and businesses.  Students, including adult learners, will find useful reference sheets for each of the certificates and credentials with information about associated occupations, median salaries, certification and exam requirements, etc., as well as links to current job listings.  Educators and businesses will find resources to help inform academic design, career and technical education programs and workforce development.
---
Summer 2020 Faculty Summer Book Club
The Office of the Associate Vice President for Academic Programs and Policy hosted its second annual faculty summer book club virtually in 2020. This past summer over 80 faculty signed up to read Bryan Alexander's Academia Next: The Futures of Higher Education.  The book was made available via the UH Mānoa library. The Library sponsored what turned out to be a lively 90-minute Zoom discussion with Professor Alexander. We look forward to Summer 2021. Please send books suggestions to Debbie Halbert (halbert@hawaii.edu).
---