The Office of the Vice President for Academic Planning and Policy (OVPAPP) provides executive leadership in setting forth the systemwide academic vision and goals for the University of

Hawaiʻi

in collaboration with internal and external stakeholders. A significant portion of OVPAPP's work is focused on the

Hawaiʻi

Graduation Initiative (HGI), a UH Strategic Direction dedicated to ensuring students' successful degree completion.
UH Launches Accelerated Online Initiative for Working Adults
The University of Hawaiʻi has developed a new accelerated online initiative for working adults. There are two different online programs.  The first is the Accelerated AA Online Program, a cohort-based model designed for students who have less than 9 earned credits. The second program is designed for students that would like to enroll in a fully distance program with 5-week courses. Both programs are flexible and focused on working students.
The first cohort of the Accelerated AA Online Program started in Fall 2019, and a second cohort started in Spring 2020. Students enroll in one 5-week online course at a time to focus on each class, taking 9 credits per semester, and 6 credits in the summer. This program is designed for students with little to no college level credits. Students with no college level credits earn this accelerated online Associate in Arts (AA) degree in two-and-a-half years.
The second program was developed after a number of students indicated interest in completing their degree with the online 5-week class format. This program also focuses on taking one class at a time, but students have more flexibility as they are taking the courses they need to finish a degree they started years ago.
Courses offered in both programs are designed to lead to baccalaureate online programs. The courses are developed by faculty who have completed training with Quality Matters, an online quality assurance system. Additionally, the courses have been through a process of rigorous peer review and assessment by instructional designers. These specially selected series of courses are offered across the University of Hawaiʻi's seven community colleges. Students completing the programs will graduate with their AA from UH Leeward Community College.
Combining the two programs, the Fall 2019 group started with 81 students, with 58 progressing to Spring 2020, and 1 student graduating. The Spring 2020 group added 59 new students to the program, totaling 117 students in the online programs. The average age of the student population is 35 years old; 35% are PELL eligible. Fall 2019 success rates for the online programs are higher than day students. The fall semester cohort average success rate is 88%. Qualitative feedback has been solicited from the students and the faculty participating in the programs. Many students have expressed their satisfaction with the program and appreciate the accelerated pace and focusing on one class at a time. Faculty members report high student engagement in their classes, and they appreciate the students' motivation to do well and complete the course.
---
The University of
Hawaiʻi

System Joins the Interstate Passport Network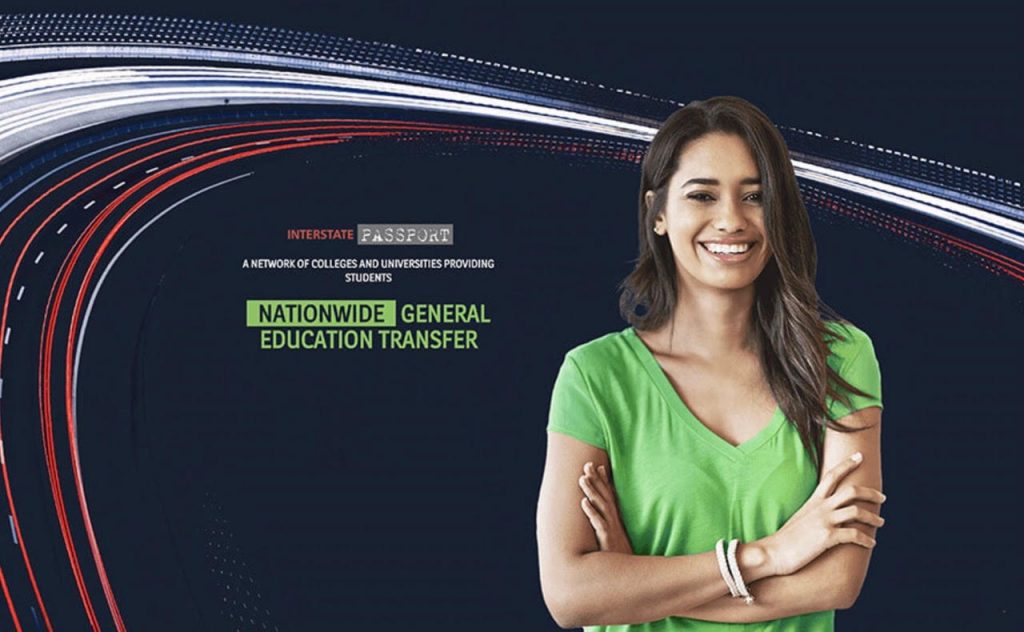 In Spring 2020, the University of Hawaiʻi System became a system member of the WICHE Interstate Passport Network, a nationwide network of regionally accredited, nonprofit, public and private two- and four-year institutions. Instead of transferring specific courses and credits, the Interstate Passport allows students to block transfer their general education requirements by certifying that they have met specified learning outcomes and proficiency criteria. Each campus develops how its general education curriculum meets the passport learning outcomes. At the point of transfer, students are not subjected to a course-by-course review of their requirements, where often they loose credits, but instead if they have been awarded an Interstate Passport, the general education curriculum transfers as a block. The Interstate Passport provides students of member institutions a seamless, efficient, and economical transfer experience.
"The University of Hawaiʻi System is delighted to join the Interstate Passport network," said UH President David Lassner.  "UH faculty, staff, and administrators have been early participants and implementers in shaping the initiative, and after seeing its value all ten of our campuses are enthused about its potential to assist transfer students and shape our thinking about general education."
By Fall 2019 the two Hawaiʻi pilot Interstate Passport campuses, UH West O'ahu and Leeward Community College, had awarded 1,326 and 968 passports respectively and currently the other eight UH campuses are engaged in completing their profile page that will inform all prospective UH students nationwide of each of their unique qualities and programs. For more information on the Interstate Passport you can visit their website.
To see UH West O'ahu's Interstate Passport Page follow this link: http://passport.techgnorth.org/public/index.cfm?publicprofile&campus=45
To see Leeward CC's Interstate Passport go here:
http://interstate-passport.wiche.edu/public/index.cfm?publicprofile&campus=47
---
Pacific Islanders in Higher Education Convening
With support from the Lumina Foundation, the University of Hawaiʻi System hosted the Pacific Islanders in Higher Education Convening on January 31, 2020 at the East-West Center (John A Burns Hall). The convening brought together representatives from all 10 campuses, along with representatives from local high schools, and others. The convening focused on faculty, students, staff, and professionals gathering insights on how to enhance success for Pacific Island students. The convening included networking, meeting students and learning about their experiences, sharing research, and developing future plans. Equity for our Pacific Islander students is a key element for the overall well-being of the State and an important goal for the University of Hawaiʻi System.
---
UH System Sponsors Dr. Jose Bowen Visit
Nationally recognized scholar and author Dr. Jose Bowen gave an inspirational keynote address that was live streamed for all UH campuses on his new work "The Brain in the Body: Using New Learning about Learning" the week of February 24-28, 2020. Dr. Bowen presented new research in performance, brain and learning sciences, and offered techniques to help faculty design course environments where students will persist in the work only they can do. Dr. Bowen also facilitated a faculty workshop, "Teaching Naked Techniques: A Practical Workshop on Designing Better Classes Center for Teaching Excellence." The workshop provided techniques to improve student learning by guiding faulty in creating better modules for their courses. While visiting, Dr. Bowen also met with UH administrators on how to encourage innovative teaching in the classroom. As one participant said of Dr. Bowen's workshop, "Life changing! Mahalo for sharing your vision of what education can be!"
---