Mahalo Manoa
November 20, 5:30pm - 8:30pm
Mānoa Campus, Campus Center Courtyard
---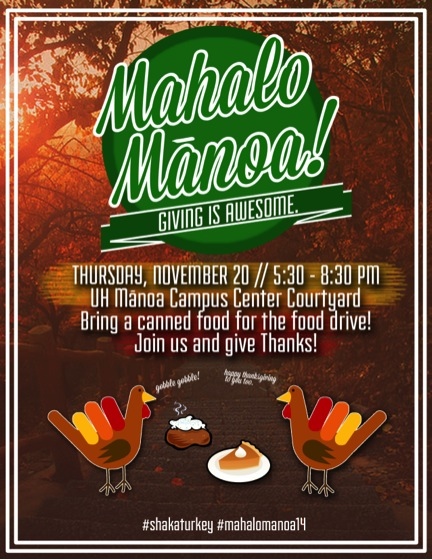 In the spirit of Thanksgiving, we want to invite all of you to our Mahalo Manoa Event! There will be free Thanksgiving food, entertainment and t-shirts! Enjoy Thanksgiving early with your fellow classmates.
Please bring a canned food to support our food drive and give thanks. We hope to see you there!
***Food and shirts available only to full-time undergraduates with validated IDs.
Event Sponsor
Associated Students of the University of Hawaii (ASUH), Mānoa Campus
More Information
956-4822
---
Thursday, November 20

8:00am

UH Student Apple One-Day Sale

Mānoa Campus, Manoa Bookstore, 1st Floor Campus Center
1:00pm

Education Final Oral

Mānoa Campus, Wist 128
3:00pm

Oceanography Seminar - Christine Schulse

Mānoa Campus, Marine Science Building 100
3:00pm

WRRC Fall Seminar: Jordan Fahmie, Engineer, AECOM

Mānoa Campus, Marine Science Building (MSB) 114
5:30pm

Mahalo Manoa

Mānoa Campus, Campus Center Courtyard
6:30pm

Exploring the Reef at Night

2777 Kalakaua Ave.
7:00pm

Sports Photography with Peter Reed Miller

Mānoa Campus, Art Building Auditorium
7:30pm

Jihyun Rossi, flute

Mānoa Campus, Orvis Auditorium