Sustainable Cram Jam: Ono & Pono Smoothies and Snacks for Finals Week
December 16, 12:00am - 11:45pm
Mānoa Campus, Campus Center 2nd Floor
---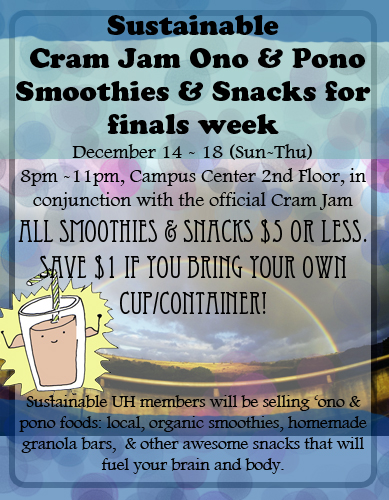 Sustainable UH members will be selling ono & pono foods: Local, organic smoothies, homemade granola bars, & other awesome snacks that will fuel your body and brain!
**All smoothies and snacks are $5 or less! Save $1 if you bring your own cup/container**
This event is in conjunction with the official Cram Jam.
Event Sponsor
Sustainable UH, Mānoa Campus
More Information
Doorae Shin, (808) 492-3954, doorae@hawaii.edu, https://www.facebook.com/events/331229930415500/?ref=22
---