Presentation by Ichitaro Suzuki, Tokyo Midtown 2013 Grand Prize Awardee
February 20, 6:30pm - 7:45pm
Mānoa Campus, Art Building, Art Auditorium
---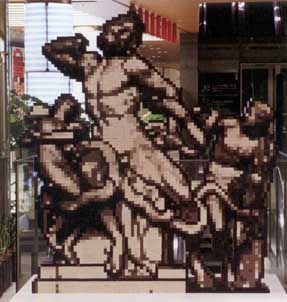 Ichitaro Suzuki is the recipient of the Grand Prize for the Tokyo Midtown Award 2013 art competition. "JAPAN VALUE" was the theme that the applicants had to consider.
This significant annual art and design competition is sponsored by Tokyo Midtown, a complex consisting of apartments, offices, restaurants, stores, museums, a park, a luxury hotel, and public art sculpture installations that was completed in 2007. With the goal of discovering and supporting upcoming designers and artists, this design and art competition has encouraged a range of applicants—from students to the general public—to apply. A panel of artists, curators, and designers who are vanguards in their respective fields review and judge the proposals.
The winners of the art competition receive funding to produce their projects and the opportunity to present them within the Tokyo Midtown public indoor exhibition area. The winners of the design competition receive support to turn their proposals into fully developed commercial products.
Selected from six finalists as the winner of the grand prize, Ichitaro Suzuki began his study of sculpture while in high school. Originally from Gifu, Japan, Mr. Suzuki is currently a graduate student at Aichi Prefectual University of Art and Music. He lives in Nagoya, Japan.
Mr. Suzuki used Japanese cedar and acrylic paint to create his work that was on view at Tokyo Midtown in November 2013. "A Monocular Land Scape: Gruppo del Laocoonte" pays homage to the famous classical sculpture. Each piece of wood was painted separately before the work was assembled resulting in a three-dimensional yet pixelated façade.
Public reception: February 20, 6:00 - 6:25 p.m. Art Auditorium
Ticket Information
Admission is free. Parking fees may apply.
Event Sponsor
Art and Art History, Mānoa Campus
More Information
Sharon Tasaka, (808) 956-6888, gallery@hawaii.edu
---
Thursday, February 20

9:00am

Chinese Culture Day 2014

Mānoa Campus, Garden Level Rooms, Imin Center (Jefferson Hall)
12:00pm

Peer Review of Teaching in a Research-Intensive University

Mānoa Campus, Kuykendall 106
12:00pm

Chinese Studies Public Lecture

Mānoa Campus, Moore Hall 202
12:00pm

Writing the Holocaust and Gender

Mānoa Campus, Henke Hall 325
2:00pm

Persian Movie Screening: Baran (2001), directed by Majid Majidi

Mānoa Campus, Moore 258
3:00pm

A Society that Self-Destructed? Recent Archaeological Research on Rapa Nui

Mānoa Campus, Crawford 115
3:00pm

Oceanography Seminar

Mānoa Campus, MSB 100
4:00pm

Forum on Critical Issues in Korean Studies

Mānoa Campus, Center for Korean Studies
5:00pm

Chess Club at UH Manoa Spring Meeting

Mānoa Campus, Campus Center 310
6:30pm

Presentation by Ichitaro Suzuki, Tokyo Midtown 2013 Grand Prize Awardee

Mānoa Campus, Art Building, Art Auditorium
8:00pm

Lady Mu and the Yang Family Generals

Mānoa Campus, Kennedy Theatre Mainstage