Inside the Ethnic Studies Studio...Featuring Aaron "Angry Woebots" Martin
February 26, 10:30am - 11:15am
Mānoa Campus, George Hall 227
---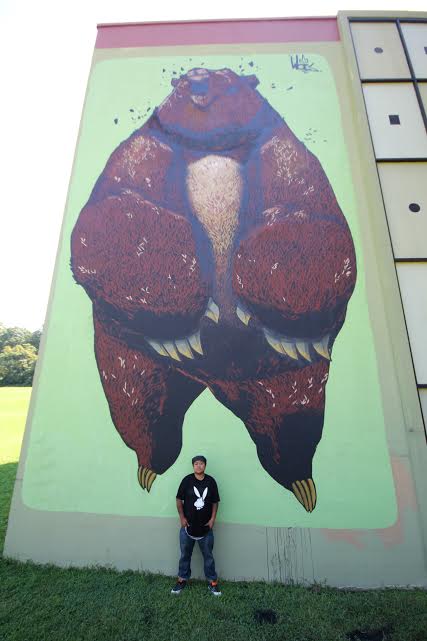 This presentation will feature Aaron "Angry Woebots" Martin aka "Woes Martin." Aaron Martin was born on O'ahu but spent most of his childhood in southern California, some of his youth in Nevada before finally landing back in Hawai'i during his junior year in high school. Saturday morning cartoons, Kung Fu, and comic books served as early inspirations to be creative in some way. It was during high school in Honolulu when he got into graffiti through Hip Hop culture. In 1998 a car accident changed everything; this life-threatening experience inspired him to leave the island once again, this time to Seattle, Washington, where he discovered a new art movement that involved Hip Hop, punk rock, skating, graffiti, toys, and design. Engulfed by this new movement, Aaron followed along and was hooked, inspiring him to create again. He then returned to Hawai'i with a new perspective and had his first show in 2002. Since then, he has been showing in galleries across the United States, Southeast Asia, the South Pacific and Europe. He has appeared in many publications within the Art, Designer Toy, and Hip Hop communities. Aaron has worked with many companies involving designer toys, design, and live works - Kidrobot, Disney/Mindstyle, Kampeon, Converse Red, Samsung, Kicks Hawaii, Fitted Hawaii, FLABSLAB Singapore, and In4mation, to name a few. Recently, he's gone back to painting walls using aerosol, rollers, and house paint. In this respect, he's been involved with the Heineken Mural Project, the Richmond Mural Project (Virginia), Art Basel Miami, ARTSLAM! (San Antonio, Texas), and Pow! Wow! Hawaii (in his hometown of Honolulu). These projects have involved painting on a larger scale for the public eye and to better showcase the process of creating a piece of work from the bottom to the top.
Along with his success and worldwide travel, his long-time passion for toys has given him the opportunity to create his own pieces, whether it be through Kidrobot's Dunny platform or his own resin sculpture with his partner, Palmetto, of Silent Stage Gallery. Aaron has covered ground on a wide range of artistic and geographic ends. You can usually find him at Comicon San Diego, Comicon New York, Designer Con Pasadena, and Singapore Toy Con rocking custom vinyl toys, resin figures, and collaborations. His focal medium, however, is acrylic paintings on wood and canvas. Using minimal colors and detailed character design, these paintings are usually comprised of emotionally stressed out, aggravated pandas or bears. The pandas tend to represent the story of struggle, humble beginnings, and rolling with the punches. From Hawai'i to the continental U.S. and across the globe he continues to leave his mark, connecting with other artists and other cultures, which has been his recent focus, experiencing life to the fullest and building on a worldwide plane. In the presentation, Aaron will discuss his life, art, and creative process.
Ticket Information
This event is free and open to the public.
Event Sponsor
Department of Ethnic Studies, Ethnic Studies Student Association (ESSA), Dancers Unlimited, Curators of Hip Hop, Mānoa Campus
More Information
(808) 956-6915
---
Wednesday, February 26

10:30am

Inside the Ethnic Studies Studio...Featuring Aaron "Angry Woebots" Martin

Mānoa Campus, George Hall 227
10:30am

UH Saves Day Financial Education Expo

Mānoa Campus, Campus Center
12:00pm

Techlogic@Manoa

Mānoa Campus, Various buildings, see website
12:15pm

Move with Aloha Club - February Walk

Mānoa Campus, McCarthy Mall at Hamilton Library
12:30pm

The Prison Monologues

Mānoa Campus, Law School Classroom 2
1:30pm

Three Keys to Leveraging Peer Review and Collaborative Writing in Your Classroom

Mānoa Campus, Kuykendall 106
2:00pm

"Beyond Survival: Theater, Culture, and Justice in Afghanistan" - Nadia Siddiqui

Mānoa Campus, Moore Hall - Tokioka room
3:00pm

Ka Papa Loʻi ʻO Kānewai Mālama Hāloa Kalo Festival

Mānoa Campus, Kamakakuokalani Bldg (KAMA) 110
3:00pm

Ocean and Resources Engineering Seminar

Mānoa Campus, MSB 114
3:30pm

Meteorology Seminar

Mānoa Campus, Marine Sciences Building, MSB 100
4:00pm

Meditation

Mānoa Campus, Gilmore 311
5:00pm

Family Happy Hour

Mānoa Campus, Manoa Gardens/Bale Restaurant
5:30pm

James C. Scott: The First Agrarian States

Mānoa Campus, Bilger Auditorium
5:30pm

Relaxation Night

Mānoa Campus, Campus Center
6:00pm

ASUH General Senate Meeting

Mānoa Campus, Campus Center 310
6:30pm

Southeast Asia Wednesday Night Film - Petaling Street Warriors

Mānoa Campus, Center for Korean Studies Building