It's not about libraries! It's about learning!
February 28, 4:00pm - 5:30pm
Mānoa Campus, Hamilton Library room 3F
---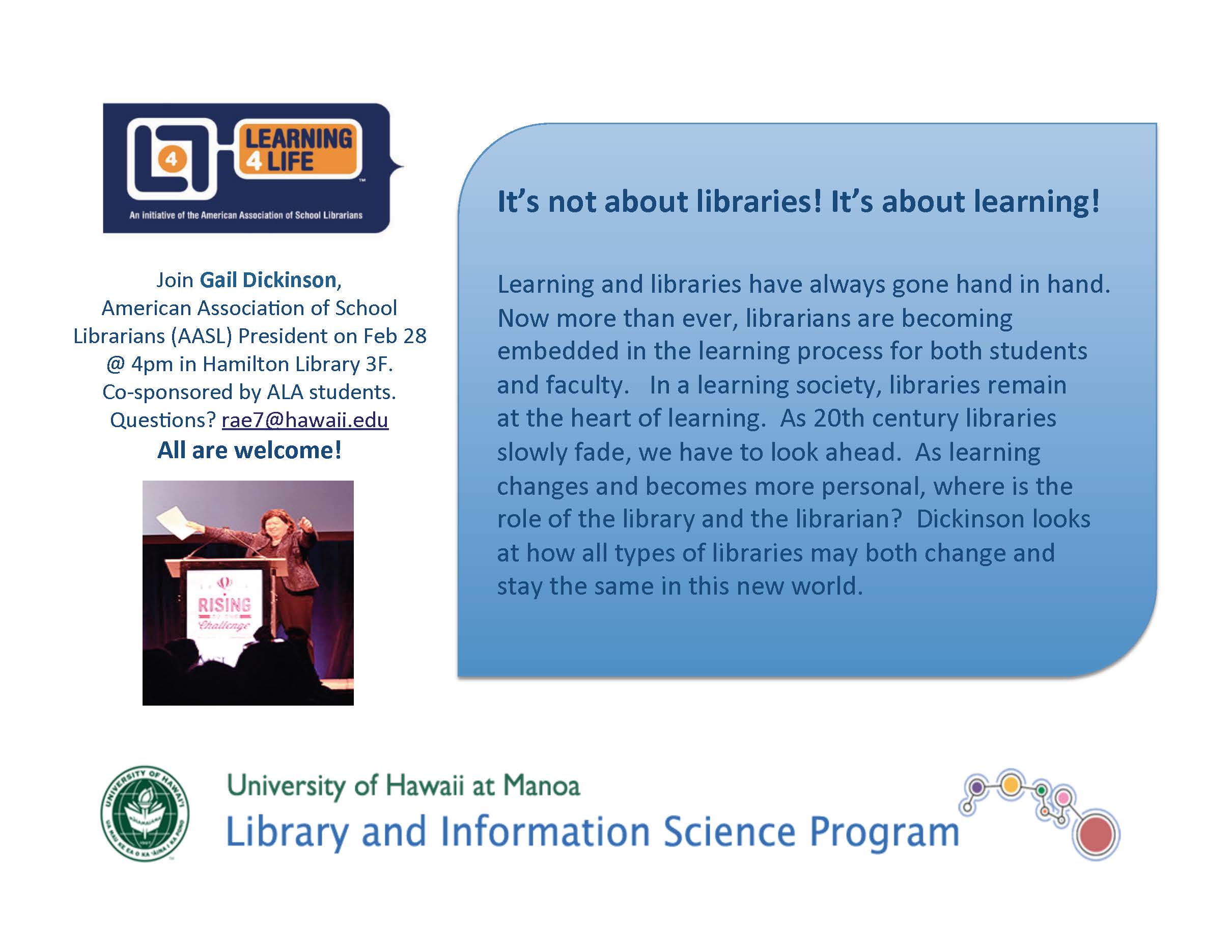 American Association of School Libraries (AASL) President Gail Dickinson presents:

It's not about libraries! It's about learning!




Learning and libraries have always gone hand in hand. Now more than ever, librarians are becoming embedded in the learning process for both students and faculty. In a learning society, libraries remain at the heart of learning. As 20th century libraries slowly fade, we have to look ahead. As learning changes and becomes more personal, where is the role of the library and the librarian? Dickinson looks at how all types of libraries may both change and stay the same in this new world. All are welcome!
Event Sponsor
ICS - LIS Program , Mānoa Campus
More Information
Rae-Anne Montague, (808) 956-7321, rae7@hawaii.edu, http://www.hawaii.edu/lis
---
Friday, February 28

10:00am

A Workshop on Local Ecological Knowledge

Mānoa Campus, Moore Hall, Room 575
10:30am

Ka Papa Loʻi ʻO Kānewai Mālama Hāloa Kalo Festival

Mānoa Campus, Kamakakuokalani Bldg (KAMA) 110
12:00pm

Employing Pacific Studies: PhD Pathways

Mānoa Campus, Tokioka Room, Moore 319
12:30pm

Techlogic@Manoa

Mānoa Campus, Various buildings, see website
12:30pm

Aloha Friday with SPAM!

Mānoa Campus, QLCSS #208
1:00pm

Education Final Oral

Mānoa Campus, Wist 129
2:00pm

German Club - Stammtisch

Mānoa Campus, Manoa Gardens
2:30pm

A Workshop on Local Ecological Knowledge

Mānoa Campus, Moore Hall, Room 575
2:30pm

Building Aboriginal Territories in Cyberspace

Mānoa Campus, Saunders 624
3:30pm

Improving Intercultural Service Encounters in Restaurants

Mānoa Campus, Queen Lili'uokalani Center for Student Services 412
3:30pm

EALL Talk Series 3 - Dr. Jeong-Seok Kim

Mānoa Campus, Center for Korean Studies
4:00pm

It's not about libraries! It's about learning!

Mānoa Campus, Hamilton Library room 3F
6:30pm

Movie Night: Hunger Games Catching Fire

Mānoa Campus, Campus Center Ballroom
7:30pm

Jeremy Wong, baritone

Mānoa Campus, Orvis Auditorium
8:00pm

Lady Mu and the Yang Family Generals

Mānoa Campus, Kennedy Theatre Mainstage
9:00pm

Movie Night: Hunger Games Catching Fire

Mānoa Campus, Campus Center Ballroom