Student Focus Group on Sexual Violence: Male Undergrads*
April 29, 12:00pm - 1:00pm
Mānoa Campus, Queen Lili'uokalani Center for Student Services, Room 208
---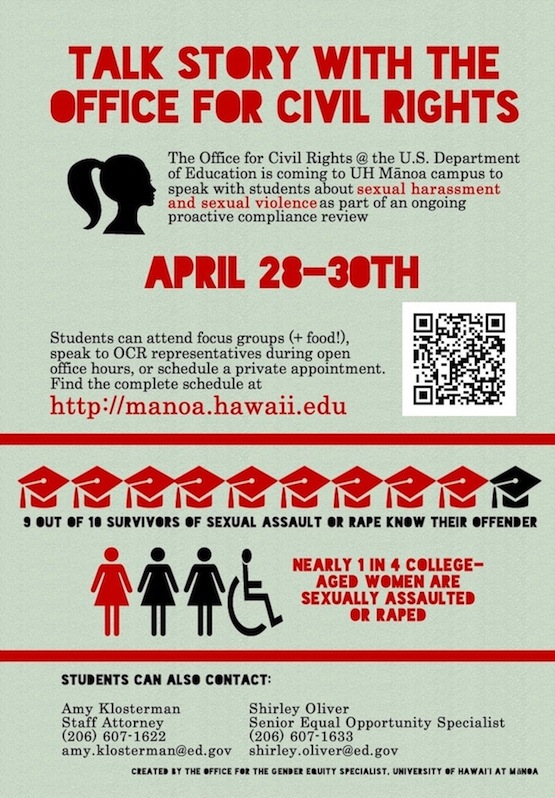 Representatives from the Office for Civil Rights at the U.S. Department of Education is coming to UH Mānoa to speak with students about sexual harassment and sexual violence on campus.

Food and drink to be served.

*Male Undergraduates, including fraternity members, international students, Native Hawaiian students, DREAMers and Bridge to Hope students.
Event Sponsor
U.S. Department of Education Office for Civil Rights, Mānoa Campus
More Information
(808) 956-9977, geneq@hawaii.edu, http://manoa.hawaii.edu/chancellor/title-ix/
---
Tuesday, April 29

12:00am

Linguistics Seminar

Mānoa Campus, St. John Auditiorium (St. John, Room 011)
10:00am

Volunteer Fair

Mānoa Campus, Hawaii Hall Lawn
10:00am

Wellness Across Diverse Cultures (Wellness Fair)

Mānoa Campus, McCarthy Mall
11:30am

The Future of Hip Hop Summit: Independence in Art & Business

Mānoa Campus, Queen Lili'uokalani Center for Student Services (QLC) 412
12:00pm

History Final Oral

Mānoa Campus, Sakamaki A201
12:00pm

Student Focus Group on Sexual Violence: Male Undergrads*

Mānoa Campus, Queen Lili'uokalani Center for Student Services, Room 208
12:00pm

Student Focus Group on Sexual Violence: Female Undergrads

Mānoa Campus, Queen Lili'uokalani Center for Student Services, Room 411
3:00pm

Education Final Oral

Mānoa Campus, Ke Kula Kaiapuni 'o Anuenue
3:00pm

Student Focus Group on Sexual Violence: Female Athletes

Mānoa Campus, Athletics Department Letterwinner's Clubhouse
3:00pm

Finalist for Director, HIGP: Jonathan Dehn

Mānoa Campus, POST Building 723
4:00pm

Talk Story with the Office for Civil Rights Re: Sexual Violence at UHM (Open)

Mānoa Campus, Queen Lili'uokalani Center for Student Services, Room 208
5:00pm

Ultimate Frisbee Pick-up on Bachman Lawn

Mānoa Campus, Bachman Lawn
6:00pm

Women in Journalism: Setting the Standard

Mānoa Campus, Architecture Auditorium
6:00pm

Film Screening - The Curators Volume 1: A Story of Independence

Mānoa Campus, George Hall 227