Ultimate Frisbee Pick-up on Bachman Lawn
November 4, 5:00pm - 8:00pm
Mānoa Campus, Bachman Lawn
---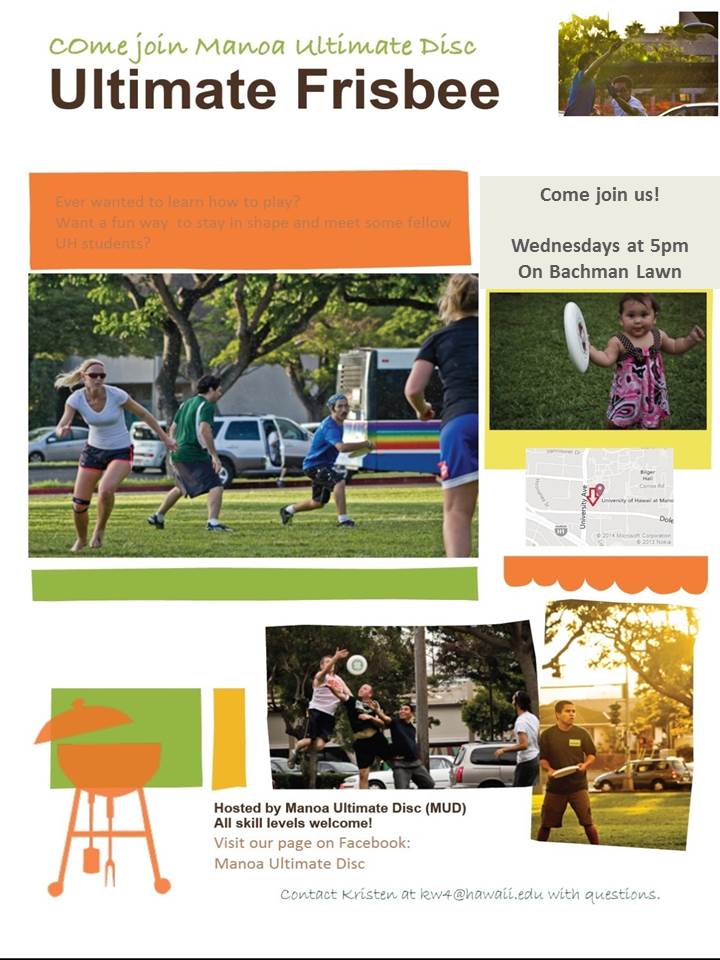 Interested in playing/learning how to play ultimate frisbee on UH campus? Want to get a great workout but don't like running in place on a treadmill?
Come join us on the Bachman Lawn (corner of Dole and University) every Wednesday from 5:00 p.m.-dark for a casual ultimate frisbee pick-up game! All skill levels are welcome.
See our Facebook page https://www.facebook.com/groups/manoaultimatedisc/ for questions and further information!
Manoa Ultimate Disc is a registered RIO at UH Manoa
Event Sponsor
Outdoor Recreation, Mānoa Campus
More Information
Joshua, (808) 956-7599, manoaultimatedisc@gmail.com, https://www.facebook.com/groups/manoaultimatedisc/
---
Wednesday, November 4

11:00am

SPAM Celebrates Non-Traditional Students

Mānoa Campus, Campus Center Courtyard
12:00pm

Roundtable Discussion on the Keyword "Gender"

Mānoa Campus, Burns 4118
12:00pm

Fall 2015 China Seminar Series

Mānoa Campus, Moore 319
1:30pm

German Film Series - Fall 2015

Mānoa Campus, Moore 258
3:30pm

Atmospheric Sciences Seminar

Mānoa Campus, Marine Sciences Building, MSB 100
4:30pm

NICE International Language Exchange

Mānoa Campus, Krauss Hall 012 (except 11/18: SAK B101)
5:00pm

Family Happy Hour (FREE!)

Mānoa Campus, Mānoa Gardens/Ba-Le Courtyard
5:00pm

Ultimate Frisbee Pick-up on Bachman Lawn

Mānoa Campus, Bachman Lawn
5:30pm

Get your law degree at night!

Mānoa Campus, Moot Court Room, Law School, 2515 Dole
6:30pm

Wednesday Night Southeast Asia Movie: Singapore

Mānoa Campus, St. John Plant Lab Auditorium (basement)